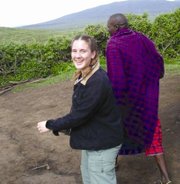 John F. Kennedy once said, "There are risks and costs to a program of action. But they are far less than the long range risks and costs of comfortable inaction."
Dianna Mendoza, a Sunnyside High School '07 graduate, can certainly identify with his words. Mendoza is a young lady of great faith and strength, but soon she will be challenged like never before.
This June, Mendoza leaves the safety and security of home for a month long trip to South Africa where she will aid in stopping human trafficking.
Everything happened rather quickly for Mendoza, who admits she knew very little about human trafficking before Christmas break last year. But when she attended an International House of Prayer conference in Kansas City, MO, everything changed.
Having spent her college career at Pacific Lutheran University majoring in social work, Mendoza always felt she had a solid grasp of justice, but a meeting on human trafficking with the group Exodus Cry not only made her re-examine issues of justice, but her own commitment to them.
Mendoza recalls that she was trembling with energy by the end of the meeting when she learned that Exodus Cry would be sending a group to South Africa to pray and aid local anti-slavery groups there.
She returned home after the conference, feeling like God was guiding her toward this service.
But first, Mendoza knew she had to be sure what she was getting into.
Human trafficking is an epidemic that Mendoza learned has been supported by issues of globalization and poverty. Most of the people who find themselves victims of trafficking are women and children, and come from some of the poorest communities from around the world.
They are often lured in by promise of jobs and wealth, but once they are away from family and security, they are threatened, brutally beaten, raped and drugged until all hope for escape and rescue is drained away.
It is through this physical and psychological control that victims become defeated and often find themselves working in red-light district brothels or being sold into slavery.
In places where the traffickers deem there will be a need, victims will be trafficked in.
For example, South Africa will host the 2010 World Cup this June. It is estimated that a half million travelers could pass through South Africa during this time, where traffickers believe there will be a need for what they call "sex tourism."
Amid all this horrifying information, Mendoza came to a conclusion: action is needed.
In February, Mendoza contacted Exodus Cry and offered her service. In March, she was accepted.
Making the decision to leave home for such a potentially dangerous cause is never easy, but Mendoza found strength in her faith whenever her resolve faltered.
During one particularly trying moment, Mendoza admits she questioned her decision to leave. Her mother, Debbie Mendoza, told her she would support her daughter only if Mendoza was sure this was what she wanted to do.
No doubts. No hesitation.
Mendoza took a walk to really think about her decision. A lot weighed on her mind, not the least of which was the concern over her own safety.
After her walk, Mendoza participated in a video conference with other volunteers where she found that many of her concerns were addressed.
It made her feel better about her decision, but something even more inspiring would solidify her resolve.
Not long after the conference, Mendoza received a generous donation to help ease the cost of travelling to South Africa. Her friend was inspired to donate $500 to Mendoza.
People who make the decision to volunteer for work like this typically have to pay and the donation dropped her cost to $4,500.
Though she is still in need of funding, Mendoza is preparing for her trip. She is reluctant to say more about her precise job in South Africa, saying that anyone who has been on a mission knows that plans always change.
But she knows their foundation is in prayer. They will organize prayer meetings, worship and raise awareness. By speak to travelers and maybe visiting a few red-light districts, they hope to ignite the flame of justice that will end human trafficking.
While there, Mendoza knows they will employ the safest and most effective methods of the anti-slavery organizations already in South Africa.
This is not about storming the brothels, she says. "We'll be there to bring peace and bring light."
During her stay, Mendoza and the other volunteers will visit the cities of Johannesburg, Durban and Cape Town, carrying with them a message of justice and peace. She is confident the work she will do in South Africa will change the world. Though she is aware of the danger, Mendoza is at peace with it.
"We have the Lord on our side," she says, "We have His protection."
Anyone interested in learning more about human trafficking or Exodus Cry, or looking to help Mendoza with her trip can call her at 509-831-7360 or e-mail at mendozda@plu.edu.