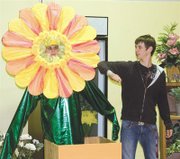 It is your average tale of a small town, a greenhouse on the verge of foreclosure and unrequited love. But when the play Archie and the Wallflower throws in a love potion, a slightly mad scientist and, of course, a giant talking plant named Archie, real chaos can ensue.
The Sunnyside Christian High School drama students have been hard at work for the past month and a half preparing to bring this clever slapstick comedy to life.
The play's director, Candace Bosma, says she must have searched through 40 plays before settling on Archie and the Wallflower.
Though Bosma has been working with the Sunnyside Christian drama department for three years, this spring's play is only the second production she has directed. Last fall, Bosma and her drama students presented three one-act plays.
Archie and the Wallflower will be the first time Sunnyside Christian High School has presented a spring play, which will stage three performances Thursday, April 22, Friday, April 23, and Saturday, April 24.
Each performance will be held at 7 p.m. in the Sunnyside Christian Elementary School gym on North Avenue. Cost of admittance is $5 for adults, $3 for students.