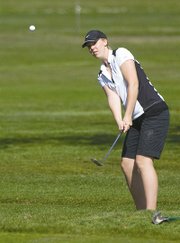 Throw out the lone blow-up that Renae Visser had yesterday, she would have turned in a pretty solid round.
But even with taking a triple-bogey on Black Rock Creek's toughest rated sixth hole, Visser walked away from yesterday's non-league girls golf competition with medalist honors. The Sunnyside junior claimed the low individual round by firing an 8-over-par 44. Thursday's girls match was a nine-hole affair.
Visser was the only member of the Sunnyside High School girls golf team competing yesterday.
The next lowest score posted in the girls match was a 58, notched by East Valley's Katie Gibbs. The Red Devils won top honors in the girls team scoring with an aggregate 242.
Grandview, led by Taylor McKinney's front nine 74, tallied a 312 for second-place honors in the team scoring race. The Lady 'Hound linksters also got a 77 and 78 from Ashley Jackson and Natasha Lara, respectively, with Kayla Lucas's 83 rounding out the team scoring for Grandview.
Neither Sunnyside nor Prosser had full four-member squads, thus their team scores were listed as incomplete.
The low Prosser round was Alex Riojas's 61.
In yesterday's non-league boys match at the Sunnyside golf course, Prosser's Wade French bested all the competitors. He turned in an 8-over-par 80 in the 18-hole match.
The Mustangs won the team scoring race with a 338 team total. Backing up French's 80 were Devin Bender with an 82, Chad Hancock with an 83 and Joey Watts with a 93.
Sunnyside, led by Nathan Espinoza's 83, finished second in the team scoring with a 373. Grizzly teammate Nick Navarro added an 85, his best 18-hole round ever. Sunnyside also got a 102 from Nathan Meyer and a 103 from Chandler Luther.
Espinoza, in shooting the low individual round for Sunnyside, stumbled on the front side with a bogey-filled 45. He righted the ship, however, with a 2-over-par 38 after the clubhouse turn, which included snaring a birdie on the par-4, 15th hole, then finishing with three consecutive pars.
Grandview's boys brought up the rear in the team scoring with a 436. Josh Jardine bested all the Greyhounds with an 88 (47-41). Also competing for Grandview were Ryan Contreras with a 103 (53-50), Cameron Dillon with a 120 (66-54) and Dylan Parker with a 125 (63-62).