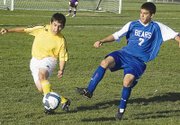 MABTON - After losing six straight matches, the Viking soccer team was able to overcome the difficulties they have had this season to defeat Kiona-Benton 7-3 yesterday.
"Mabton started the action with a trifecta," shared Viking Assistant Coach Mike Davis.
Mabton started the match strong. They kicked it off with a goal by Tony Espinoza at the four-minute mark. Three minutes later the Vikings broke through the Bear defense again and Espinoza scored another goal. He wasn't done there. The two teams took to the center field for another kick-off and Mabton again took control of the ball.
It was at the 11-minute mark the Vikings got the ball to Espinoza to place his team up 3-0 with another goal.
Mabton was on fire and the momentum continued to build. The Kiona-Benton defense was penetrated again as the Vikings went on the attack and Crisantos Chavez gained possession of the ball.
He kicked the ball past Bear keeper Jesus Ayala at the 24-minute mark for his first goal of the season.
Kiona-Benton was able to slip past the Mabton defenders five minutes later. The ball was put to the feet of Jose Solorzano of the Bears and he scored at the 29-minute mark.
The Mabton players didn't want to fall. They dusted themselves off after the Kiona-Benton team scored and pushed the ball back to the goal box on the attack. Espinoza again scored for the Vikings' fifth goal at the 30th minute.
One more Viking scored before the half. Hector Brambila, who had been temporarily out of the line-up, was able to power past Kiona-Benton's defenders to score at the 34-minute mark.
Mabton was up 6-1 at the half, but the Bears weren't going to lay down for the Vikings.
Kiona-Benton, having taken advantage of the break at halftime, took to the field and wove through the Mabton defense to score at the 59-minute mark.
Not to be underestimated, Mabton wanted to make a statement. The Vikings took possession to answer the Bears with another goal a minute later. Scoring that goal was Juan Aquilar.
The final goal was made at the 69-minute mark by Kiona-Benton.
Mabton keeper Gerardo Barajas had a total of eight saves and Ayala of the Bears made six saves in the match.
"The boys are working better as a team and hopefully will be in the postseason matches," Davis commented about his team.
Mabton (3-6-1) tomorrow (Saturday) will host Naches.