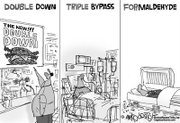 In a move that suggests that Homer Simpson has taken over for Colonel Sanders, Kentucky Fried Chicken has introduced a sandwich that uses fried chicken instead of bread, and bacon instead of chicken. Add a liberal helping of special sauce and a couple of slices of cheese and you have something that pretty much shows that the Colonel's gang has given up on their attempt to become known as simply "KFC" so people wouldn't associate the brand with only fried food.
KFC does not even make a tiny nod to health by including lettuce and tomato, it's just fried chicken, bacon, cheese and sauce. I suppose I should not be surprised as these are the people who combined fried chicken, cheese, gravy and mashed potatoes in one bowl -- presumably for people too lazy to stick their spork into multiple places.
This new Kentucky Fried monstrosity, called the "Double Down," continues a disturbing trend where fast food restaurants attempt to outdo each other by adding more bacon, more cheese and more mysterious "special" sauces to their fare. We now live in a world where it's not only possible, but easy, to order a quadruple burger with four layers of cheese and bacon.
If we can use fried chicken patties as the bun, why not wrap everything in two slices of pizza, then dip that into the fryolator? I'm not sure you're technically eating a sandwich once you eliminate the bread, but if you are, then we're about 15 minutes away from a "sandwich" consisting of two slices of cheesecake with a layer of fried Twinkies in the middle.
If it's not Homer Simpson making these decisions, then clearly a bunch of drunk frat boys has somehow taken over the fast food industry. Only the drunk or stoned could possibly conceive of foods like fried macaroni and cheese, the chicken fry, the 12-layer burrito and stuffed-crust pizza.
My friend Jason and I, in much fatter days, used to frequent the Dunkin' Donuts near our office. Jason (who now runs triathalons) used to eat a Dunkin' Donuts sausage, egg and cheese breakfast sandwich along with two coffee rolls. Basically a bigger donut with no hole, the coffee roll is covered in a mildly disgusting, absurdly delicious, sugary goop which makes a regular glazed donut seem practically sugar-free.
We used to regularly tease the staff behind the counter that they should just serve Jason's sausage, egg and cheese on the coffee rolls. We were kidding, but clearly we were not the only people thinking in this direction as Dunkin' Donuts now offers a sausage, egg and cheese served on two waffles. In addition, there are actually some baseball stadiums that serve a cheeseburger on two Krispie Kreme donuts, so our joke was not that far from the truth.
The public appears to have a boundless appetite for the absurdly unhealthy and restaurants seem perfectly willing to switch from slowly killing their customers to doing it pretty quickly. I'd like to think that there won't be a demand for the "Double Down," but in a world where we add bacon to our chili cheese fries, that seems unlikely.
- Daniel B. Kline's work appears
in more than 100 papers weekly.
He can be reached at dan@notastep.com.