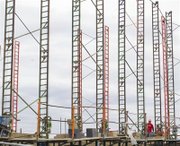 By far the biggest new building start in Sunnyside during February and March this year is the $3.2 million addition for Sun Valley Elementary School.
Construction is expected to wrap up in time for the 2010-11 school year and will provide eight additional classrooms for Sun Valley. In addition, a multi-purpose kitchen will be added to the existing school building.
The city of Sunnyside coffers netted $$22,508 in permit fees as a result of the Sun Valley expansion, which was given the go-ahead in March by city planners.
All told, in Sunnyside there was more than $4.2 million in valuation for new construction starts during February and March. The projects resulted in more than $36,000 in permit fees paid to the city of Sunnyside.
Another sizeable project permitted in March was a pre-engineered metal building at 502 North Avenue. The building is valued at $245,000 and netted nearly $3,000 in fees for Sunnyside.
Also in March, city officials gave the go-ahead for a new, single-family home at 1503 Beckner Alley. The two story, three bedroom house is part of the Catholic Charities Housing project. The house is valued at $165,567 and garnered $1,589 in fees for the city of Sunnyside.
February was a much quieter month for new construction in Sunnyside, with only $476,959 in valuation.
Most notable for February was a new single-family home at 1310 Mint Lane, part of the Aho Construction development. The house measures 2,222 square feet and is valued at $228,029, garnering just under $2,000 in permit fees for Sunnyside city coffers.
Another significant project given the stamp of approval in February was a home rebuilt at 312 Grandview Avenue following a fire. That project is valued at $188,356 and is generating $2,466 in permit fees for Sunnyside.
During the months of February and March combined, Sunnyside city officials issued 100 permits and conducted 578 inspections. About two-thirds of the inspections, 336, were related to building construction.