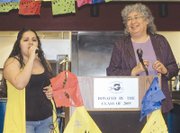 GRANDVIEW - Ten years ago, Elva Trevino Hart wrote a book about her childhood as a migrant, called Barefoot Heart. Four years ago, Grandview High School English teacher Melanie Manship read the book and knew she had to introduce the book to her students.
It took some finessing, but Manship achieved her goal and this past Monday at Grandview High School, Manship and students welcomed Hart as their special guest in a celebration of her book and culture.
Last night's event was open to students, parents and teachers. The school's mariachi band performed and senior Miriam Robles sang before guests helped themselves to a delicious potluck dinner.
Before Hart spoke, students from Manship's English class presented her with a crystal heart that read, "From our hearts to yours."
"Grandview is going to be a memory for me that I'll never forget," Hart responded.
Hart's presentation was bilingual, giving the audience insight into her family and life. She supplemented it with passages from her book.
Themes from her book include family and love, living in a world with different customs and where poverty made everything difficult.
But Hart's father put an emphasis on education, wanting to see all six of his children graduate from high school.
Hart proudly reported they all did.
The author also carried a message of hope to the students and parents. She told them that no one makes a jump toward success, but rather it is a million little steps and those steps are helped by family, friends and schools.
She encouraged students to seek out help whenever they feel overwhelmed and for them to take advantage of every opportunity and service the school offers.
Later in life, Hart went on to great success, receiving a Master's degree from Stanford University and working for IBM where she made more in a few days work than her father had earned in a year.
But Hart's greatest success has been her writing. She has given speeches on the book and her life across the nation and has recently published a collection of short stories called Simpaticas.
Through her work Hart has been teaching communities how to support their children, help them succeed and to be proud of their heritage.