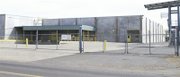 GRANDVIEW - The building many in the Lower Valley know as the former Safeway processing plant in Grandview has been vacant for approximately 10 years and residents have wondered if anyone would ever purchase the 128,000 square foot building.
They can quit wondering.
FruitSmart, a company built on hard work and many hours of laboring to develop specialty fruit ingredients in Prosser, acquired the building on a lease agreement.
"We began leasing the building with the option to buy," shared Jim Early, President of FruitSmart.
His company finalized the agreement just a few short weeks ago and is in the process of retrofitting the facility that sits on nine acres at the corner of Euclid and Bonnieview roads.
Early said some remodeling and updating is necessary before the company can move in its workforce.
The building features some infrastructure Early said suits FruitSmart's needs for expansion. Refrigeration units, boilers and tank storage are already in place.
As a specialty fruit ingredient company, the company hopes to expand its beverage line. FruitSmart is known for using seeds from fruits, such as grapes and strawberries to produce oils, fibers, powders, extracts, essences and juices.
"Our philosophy is to create value in fruit where others may have overlooked it," shared Early, stating his company works with juice processors. FruitSmart utilizes by-products from the processors to create "additional value-added fruit ingredients."
With the new facility, the company can expand its beverage line and will expand its workforce by 20 employees with its anticipated September start date.
The beverage development service at FruitSmart is working to develop specialty fruit beverages.
Founded in 1983, the company has grown from a basement-run operation to a larger part of the local economy, operating out of its current location near the Prosser airport since 2005.
That facility will continue to produce oils and dry products for the company. The company's main office will also remain in that building.
"You spend a million hours scratching yourself out of the basement, trying to create critical mass...if you're lucky, enough growth starts to happen," Early explained of the company's recent rise in success.
When asked why his company is not widely talked about in the Lower Valley, Early explained, "FruitSmart is strictly an ingredient supplier." He continued, stating the company is good for the economy, but it has kept things low-key.
"We take pride in being able to offer opportunities to the community," he shared.
A Prosser native, Early is proud he is able to help his community, providing jobs there. "Our growth has been 100 percent a result of the efforts of our employees," he stated.
"The Grandview facility," shared Early, "provides us with the opportunity to find value where others may have overlooked it."