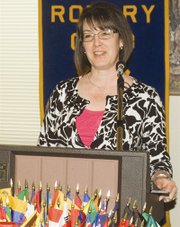 Jonica Bridges, the new development director for the Sunnyside Community Hospital Foundation, was the guest speaker at the Sunnyside Noon Rotary Club meeting this past Monday and she detailed how the foundation has aided in the growth of the local medical facility.
Bridges told the club the foundation has been in existence for 11 years and is the philanthropic support organization of the hospital. The hospital prepares for the future of the communities of the Lower Valley, with the support of Lower Valley residents, businesses and associations who support the foundation.
The Foundation has run two very successful capital campaigns for the hospital. The first one allowed an expansion of the hospital where a third wing was added to house the O.B. department and surgical facilities. The expansion also gave the hospital the ability to create private rooms for patients.
The second capital campaign brought in enough contributions to allow the hospital to expand and remodel its emergency room department.
Most of the donations come from the community, with a vast majority arriving in the form of pledges. Bridges told the Rotarians the fundraising focuses on sustained annual giving.
Three events are also held annually to help bring in needed cash. In August the hospital hosts both a golf tournament and its annual evening in the park event. Bridges said the event features dinner, dancing and an auction.
"It also gives us a chance to reconnect with our sponsors and donors," she said. "It's also a good way to seek out future donors."
The third annual event is the festival of trees in late November.
Bridges said Sunnyside Community Hospital is a critical access hospital and receives two-thirds of its reimbursements from Medicaid or Medicare. The hospital serves an area with a nine-mile radius, including Mattawa and Bickleton.
Besides the hospital in Sunnyside, five rural health clinics are also offered. These include two clinics in Grandview and three in Sunnyside.
The hospital also operates two surgical clinics in Sunnyside. One is the Specialty Center Surgical Group, which offers general surgery, and the ENT Clinic, which offers otolaryngology surgery.