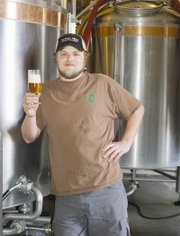 Chris Miller and his work at the Snipes Mountain microbrewery at 905 Yakima Valley Highway may be one of the best kept secrets in Sunnyside.
Unfortunately, it is the people of Sunnyside who are left out of the loop on this one.
The microbrewery, managed and run by Miller, is gaining momentum and global recognition.
Miller has brewed beer for years, getting his start at home before working at a Seattle brewery. But Miller wanted to get out of the city, so over two years ago he took on management of Snipes Mountain Brewing Inc.
Since then, Miller has only added and elevated the accolades ladled on the little Sunnyside brewery winning praise from the very start.
Last fall, Miller's Harvest Ale won first place honors in the seventh annual Fresh Hop Ale Festival in Yakima. Open to breweries throughout the Pacific Northwest and Northern California, his win last year marked the first time in several years that a Washington brew won top honors in the festival.
But while this may have been Miller's proudest moment, his most recent award only proves Miller's global appeal.
Against 3,330 entries, 642 breweries and 44 countries, Miller submitted his already winning Harvest Ale in the 2010 World Beer Cup and he won the silver for his efforts.
But global attention, while very gratifying, is not what Miller is after just yet. He wants people in the Yakima Valley and in Sunnyside to know that their little town has giant potential.
Miller may not have been born and bred in the Yakima Valley, but he takes pride in it like he was. He seeks local ingredients whenever he can find them, and has formed quite the bond with his hops provider, Steve Carpenter, whose family farm is located outside of Granger.
But for the average Sunnyside consumer, Miller says, "There is a beer for everyone here." And he has certainly seen to it and invites the community to discover it for themselves.
All day on Wednesday, guests at Snipes Mountain restaurant can order a pint for $2.50 and each weekend Miller matches a meal with a particular beer.
The Snipes Mountain brewery is certainly worth discovering. It is Sunnyside's own globally recognized secret.