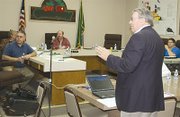 GRANDVIEW - The Grandview City Council last night, Monday, received an update from Jim Trull, district manager for SVID.
Trull provided a power point presentation outlining the Sunnyside Division's plans to pipe some of the laterals in the city.
Work will start as early as this summer on piping a thousand-foot stretch of lateral near Grandview High School.
Trull said the piping work will be done through an area that includes the west side of the high school softball field and continue up to Fifth Street.
Funded through stimulus dollars, Trull said initial hopes were that all of the laterals in Grandview could be piped this year.
But financial factors, including bids coming in more expensive than anticipated, have forced the Sunnyside Division to split the Grandview work up during 2010 and 2011.
The good news, Trull said, is that the most difficult work involved in piping the Grandview laterals will be done this year.