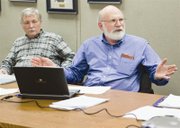 Jim Milton, director of Yakima Basin Water Resources Agency, gave a presentation at the Port of Sunnyside meeting last night (Monday).
The purpose of the presentation, Milton said, was to bring port commissioners up to speed on where an on-going ground water study is at.
Milton called the current situation in the Yakima Basin a crisis. 2010 is shaping up to be a drought year and earlier this year the Bureau of Reclamation predicted the Roza Canal will be at 79 percent of its capacity. That number is now predicted to be approximately 71 percent.
This means that water will have to be rationed this summer so every customer will get some.
The basic cause of the problem is the Yakima Basin is over appropriated. Milton said ground water has been over-allocated than what is available.
He said with water being diverted for in-stream flows for fish restoration and the inevitable growth that is sure to come in the Yakima Basin, a plan needs to be put in place.
Milton said the need is to focus on storage, water reallocation, conservation, aquifer storage and recovery, and changes in how water is used.
A ground water study is almost complete. Milton said it should be ready sometime in May.
Once the report is received Milton said the plan of action is to review all of the technical results, develop alternative management strategies and obtain a basin-wide agreement between the Yakama Nation, the federal government, and state and local governments.
Milton also asked for the continued support from the Port of Sunnyside.
In other port news, commissioners authorized the payment of claims totally $284,615.
The Wednesday, April 21, port meeting has been cancelled.