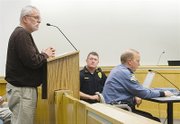 Yesterday, the Sunnyside City Council listened receptively to several proposals from the police department aimed at stopping crime.
The Sunnyside Police Department presented a comprehensive plan that included short term, mid-term and long term goals. Included among them were prioritizing gang offenses in the court system, establishing a city impound lot and enabling legal changes that would ensure parental responsibility for their children, charging juveniles as adults and impounding cars with no insurance.
But last evening's council meeting was focused on Police Chief Ed Radder and Deputy Police Chief Phil Schenck's request for immediate fiscal help.
The Sunnyside City Council was enthusiastic for six of the seven proposals presented last night after Sunnyside Financial Director Byron Olson considered the budgetary restraints of the city.
Most of what Radder and Schenck asked for would cover staffing problems. They asked for money to cover the hiring of a data entry clerk and upgrading a receptionist position to include financial responsibilities. Filling these two positions, Radder said, would free up an officer's time so they can be patrolling the streets longer.
Radder also presented a plan to bring on two new officers for the late afternoon to early morning shift, as well as bringing on provisional officers to cover the months those officers will be in the police academy.
Two plans were not staffing related at all.
Schenck presented a desire to send select police and possibly community members to CPTED training. CPTED, which stands for Crime Prevention Through Environmental Design, will discuss a variety of environmental factors that will deter criminal activity. Simple things, such as plant brush in a yard or removing a fence, has been shown to prevent criminal activity and Schenck hopes to bring this knowledge to Sunnyside.
The final request was for establishing "crime free housing." This would allow the Sunnyside Police Department to co-operate with landlords in identifying and removing tenants who pose a threat to the safety of the community.
The city council agreed to transfer these plans to the city manager who can return it at a later meeting as a budget amendment.
The city council did not approve a plan to hire two more officers for the day shift because of budget concerns, but promised to look at the plan later in the year.