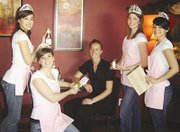 Hoping to get one more fundraiser in before the 2010-11 candidates begin training in May, the 2009-10 Miss Sunnyside Court will serve meals to help raise money for its summer activities and obligations.
Bon Vino's Bistro & Bakery is creating a special dinner menu for Friday, April 23, when dinner will be served from 5 to 9 p.m.
The menu includes an appetizer, salad, main course and dessert. Cost is $30 per person. People are encouraged to call 837-3936 for reservations.
The Miss Sunnyside Court will be the servers for the special event and will keep all the tips.