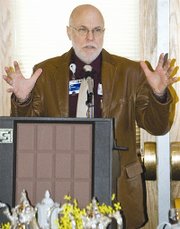 The ladies from the Nouvella Club late last week heard from Bill Miller, a chaplain at Spokane's Sacred Heart Medical Center and Children's Hospital, about the Providence Center for Faith and Healing.
Providence Center for Faith and Healing affirms and enhances the mission of Sacred Heart Medical Center by integrating faith with health. According to Miller, the center provides a sacred environment of healing and learning through the power of God's presence.
Miller also spoke about himself, detailing his journey to becoming a chaplain. He said he really doesn't like speaking in front of groups.
"I'm more of a listener," he said. "That's why I'm a chaplain."
Miller said he first started volunteering at Hospice and fell in love with the work and the notion of chaplaincy.
"It's a way of meeting people in crisis and helping them find their own way out," Miller explained.
The act of what a chaplain does so impressed Miller with its respect and faith that a light came on in his head.
"This is what I wanted to do," he said.
It's not as easy as that. A chaplain must have 72 credit hours in seminary training and a full year of clinical training. An endorsement from a religious body is also needed. The process took Miller eight years and he was certified as a chaplain three years ago.
"It fits me like a glove," he said.
He said being a chaplain can be intense at times, but at the same time, he said, it's the easiest thing he's ever done.
"My job is to just be with people," he said. "This is real, it doesn't get any more real than that."
Miller said Sacred Heart Medical Center and Children's Hospital is a phenomenal hospital. There are 623 beds available with plans to expand that capacity. The hospital boasts a pediatric and an adult emergency room, as well as a 24-hour level II trauma center.
"We pretty much cover everything but burns," Miller said.
There are 13 chaplains and one priest at Sacred Heart, which Miller said is extraordinary. He said very few hospitals the size of Sacred Heart have a spiritual department with that many chaplains.
Included in the surroundings of Sacred Heart is the Providence Center.
This place was given to the hospital by the Sisters of Providence. The center was their convent and garden. Miller said the sisters encouraged the hospital to use the area to create a beautiful space where people can get away from the hospital, connect with God and nourish their spirits in nature.
The center has been in existence for 10 years.
Miller said Providence Center for Faith and Healing has been successful. There is a meditation garden, waterfalls, walking paths and the garden is accessible 24 hours a day. The center offers a number of educational activities throughout the year.
"These activities offer resources that help patients deal with problems," Miller said. "It allows them to see God's role in their lives."
Miller said studies have shown that patients heal faster with less stress in their lives.