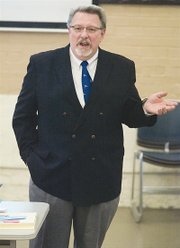 YAKIMA - Members from the Yakima Health District met with community members last night (Wednesday) in Yakima to discuss health statistics in Yakima County.
While there were several areas where Yakima County ranked high in health problems, the most glaring statistic was the fact that Yakima County was No. 1in the state in high risk sexual behavior and Chlamydia rates.
The Robert Wood Johnson Foundation in conjunction with the University of Wisconsin Population Health Institute conducted a three-year study where they ranked Washington counties base on health factors such as disease rates, access to medical care, health behaviors, education, social and economic issues, violent crime and environmental measures.
Two major rankings were then derived from the findings, health outcomes and health factors. Health outcomes, where Yakima County ranked 32nd out of the 39 counties in Washington, is based on mortality and morbidity (deaths and quality of life). Health factors, where Yakima County ranked 34th out of 39 counties, is based on health behaviors, clinical care, social and economic factors and the physical environment.
Yakima Health District Administrator Dennis Klukan told community members last night that Yakima County ranks 26th in Washington in premature deaths. In eastern Washington, where there are 20 counties, Yakima County is ranked 13th.
Adult smoking in Yakima County hovers around the middle of the pack in Washington at 15th and ninth in eastern Washington. Yakima County adults rank 26th in obesity in the state and 15th on the eastern side.
Alcohol use doesn't seem to be a huge factor in Yakima County. The county ranks sixth in binge drinking in Washington and sixth in eastern Washington. However, when it comes to motor vehicle deaths caused by alcohol use the county ranks 23rd in the state and 11th on this side of the mountains.
The county ranks last in high risk sexual behavior in the state. Teen births are a problem, with Yakima County ranking 37th in the state and 18th in eastern Washington. Yakima County had the highest Chlamydia rates in the entire state.
In other areas Yakima County was 18th in the state with access to care and 29th in the state in quality of care.
Yakima County ranked 34th in the state in education.
Income levels in Yakima County are low. The county ranks 37th in the state. The county ranks 35th in Washington in violent crime.
As for single-parent households, the county is 38th in the state and 19th out of the 20 eastern Washington counties.
Klukan told the community members that the purpose of last night's meeting was to inform community members about what's happening in Yakima County and then try to find a way to improve things.
He said this is a community problem and should be solved by community members.
"This is your community," he said. "There are some obvious problems the community needs to work on."
He passed out cards where community members filled out their names, phone numbers and email addresses. Klukan said he will wait to hear from them and then come up with a plan of attack from there.