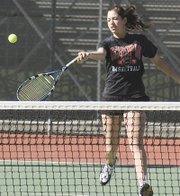 The Sunnyside Grizzly boys and girls tennis teams are still winless on the season, but had their best showing of the 2010 campaign yesterday in home losses to Pasco.
The Grizzly boys, in particular, showed improvement in a 5-2 loss to the visiting Bulldogs.
One of the Sunnyside boys' victories came in the No. 3 singles match, where Joey Zijlstra rallied to knock off Pasco's Steven Ponce, 2-6, 7-5, 6-2.
"Despite suffering from shin splints, Joey Zijlstra fought through a tough three-set match and got one of the wins for us," said Grizzly Coach Macario Solis.
The other win for the Sunnyside boys came in the No. 1 doubles contest, where Matt Johnson and Jorge Pacheco of Sunnyside downed Ryan White and Jose Tolentino in straight sets, 6-2, 6-0.
The Grizzly boys nearly had a third win in the No. 3 doubles match, as Sunnyside's Adrian Soberanes and Anthony Salcedo started strong before losing a close match 3-6, 7-6, 7-5 to Nick Bintorio and Kris Cruz of Pasco.
"They used good shot selection and strategy to keep it close," Solis said of the Soberanes/Salcedo tandem.
The Sunnyside girls lost to Pasco 7-0 in team results.
Even so, the Lady Grizzlies had their chances.
The Sunnyside girls' best chance for a victory came in the No. 1 singles match, where Kiana Ramos battled in a 7-6, 6-2 loss to Pasco's Lupe Mendoza.
"Kiana Ramos had another tough match against a senior player," Solis said. "There were many good exchanges but the wind threw her game off a bit."
In general, the key to the match for Pasco, Solis noted, was the Bulldogs' ability to adapt to conditions.
"The wind made for tough playing conditions and Pasco was able to adjust to it better than we did," he said.
Sunnyside will look for its first win of the season next Tuesday when it hosts Chiawana.