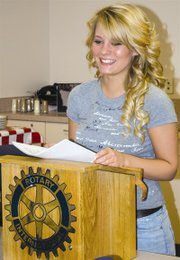 Sunnyside High School senior Anita Tadlock developed a love of photography at a young age.
Wednesday, she told Sunnyside's Daybreak Rotary Club her affection for the art began when she received her first camera.
"It was a film camera," Tadlock recalled, stating she used a lot of film and her parents discovered her new hobby was quite expensive.
She began developing her skills in photography with that camera, and soon found herself to be the proud owner of a new digital camera.
Tadlock's first experience of filling the memory card was on a family vacation to Florida. "My parents had to buy me another memory card," she shared.
Because she views photography as a way in which to share a story, Tadlock told the Rotarians she has a desire to help others fall in love with the art form.
At the young age of 13 it was decided she would like to become a photojournalist.
One individual advised Tadlock to be "trigger-happy" with her camera. She quickly realized one benefit of digital photography is the ability to delete shots she is not pleased with.
As a result of her desire to pursue a career in photojournalism, she chose the career for her senior project.
Tadlock sought out a mentor and devised a number of goals for her project.
She learned there are seven elements to quality photographs. They include composition, exposure and lighting, pattern and repetition, texture, contrast, leading lines, the center of visual interest and the rule of thirds.
To illustrate the elements, Tadlock shared several photographs she has taken.
She also learned how to use Photoshop while completing her project. "I learned every photographer can use a little help," she told those at the Rotary Club meeting, illustrating her point with a photo with poor lighting.
Juxtaposed with the original photo was a photograph that had been adjusted to depict her subject if proper lighting had been available.
Tadlock said she researched information about photojournalism careers, including the average salary of a photojournalist. She found the average salary is $17 per hour on the low end of the scale. She also learned what education is necessary to become a professional photojournalist.
In her research, she said photojournalists are tasked to include a compelling and intriguing storyline.
"Eliminate irrelevant details from the story," Tadlock shared the advice provided to her.
She said photojournalists must also be disciplined and organized.
Tadlock, as part of her project, set about the task of coming up with a story to share. She first looked to a neighbor, but quickly found there were many challenges associated with the story she wanted to tell.
As a result, she decided on a second subject, fellow Sunnyside High School senior Jazmine Salmeron.
Salmeron interested Tadlock because she is a very busy individual. Tadlock shared the classmate is involved in numerous activities, teaches dance classes and helps care for her siblings.
"It isn't easy to find a story," Tadlock admitted to the Rotarians.
The project, however, confirmed her desire to pursue a career in photojournalism.