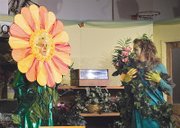 Parents looking for a good and entertaining event to share with their children this weekend need look no further than the Sunnyside Christian High School production of Archie and the Wallflower.
This comedic farce about the struggling New Leaf flower shop and its quirky collection of employees and customers mixes love with gardening... literally.
The employees of New Leaf, the timid Polly Waters, frenzied Ivy Vine, oblivious Pete Moss and nerdy scientist Nate, find themselves in a confusion of love when Ivy accidently administers her mail ordered love potion to the wrong man.
As chaos ensues from Ivy's blunder, things get really crazy for store owner Mr. Potts when the Butterfly Club's garden party gets wildly out of control.
Did I mention there is a giant, talking flower, too?
With all these elements, there is something for just about anyone in this play, which is superbly acted by its small cast.
Abby Ingvalson is well cast as Polly Waters, the wallflower, who must defend herself from the advances of a love-struck Pete Moss and befriends the talking plant, Archie.
Ingvalson's character is at the core of the play, becoming the heart of the story as she slowly learns to come out of her shell.
But the core of the comedy comes from an eclectic collection of characters and the hilarious students who portray them.
Most notable among them are Pete Moss, played by John Newhouse, and Ivy Vine, played by Anna Cleveland.
Newhouse garners laughs by just being on stage. He is plugged into the role for every moment, providing for some of the funniest scenes in the show.
Meanwhile, Cleveland takes on her role like a champion. As Ivy, Cleveland is the catalyst for the story. She balances running from the smitten Nate, who took the potion accidently and fell in love with Ivy, and trying to attract the attention of Pete, the man she really loves.
Cleveland's character is richly developed, giving her a lot to work with, but that "honey bee dance" is uniquely hers.
The other young actors, from Steven Broersma's Nate, to Renee Dalrymple's Mrs. Stickleback, to Brent Tyhuis as Archie, bring their own levels of humor to Archie and the Wallflower, but to discover what makes them so fun to watch, you will just have to check the play out for yourself.
As with all plays, Archie and the Wallflower is not perfect. But the little technical difficulties I experienced at a matinee showing earlier this week should not concern anyone. They did not detract from the enjoyment of the play and will likely be fixed for this coming weekend's shows.
The one thing that bothered me about this play was the realization that Sunnyside Christian High School has a talented and burgeoning drama program that seems to have suffered from neglect in previous years.
Plays like Archie and the Wallflower are good enough for young programs, but these students are ready to take on a real challenge. I would like to see them attempt something really daring, such as a musical, but I know they have limited funds. Everything made from the previous production goes to fund the next one.
I would like to see what these students and their directors could produce with a really great script and top of the line supplies.
My recommendation is to take your kids and go see Archie and the Wallflower during one of its two final performances this Friday and Saturday evening at 7 p.m. in the Sunnyside Christian Elementary School gym.
Admittance costs just $5 for adults, $3 for children, a minor cost for modern day entertainment.