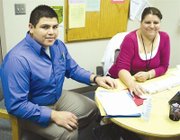 This country's next big invention might just have its roots in Sunnyside.
That's Jose Barajas' dream as the Sunnyside High senior learned just this week that he is the recipient of a millennium grant through the Bill and Melinda Gates Foundation.
Barajas found out about his big prize at 3 a.m. after winding up a long shift at Johnson Fruit.
That's right, besides carrying a 4.18 GPA and being a state-caliber athlete, Barajas works 40 hours a week to help support his mom, Rosa Rivera, and five siblings.
Barajas plans to enroll at Rochester Institute of Technology in New York before transferring to MIT to study aerospace or mechanical engineering.
"I hope to work for NASA, develop new technology for aircraft and everyday items," he said.
The Gates grant is unique in that it is available to a student for up to eight years, paying for student loans and other expenses not covered by typical scholarships.
It's value, said Barajas, is anywhere from $100,000 to $300,000. In his case, the grant will probably lean towards the higher figure as Barajas plans to obtain his doctorate from MIT.
And to think Barajas almost didn't submit the grant application.
He noted the size of the application packet was imposing, and included several essay questions.
Barajas said he didn't think he could get the scholarship and had pretty much decided not to submit it to the Gates Foundation.
That's where Maria De La Barrera enters the picture. She works in the high school's counseling office and, according to Barajas, "she said I had to send in the application."
He added with a smile, "She's my mom at school."
Barajas indeed submitted it and found out he earned the award after returning home from a late night shift at Johnson Fruit.
Just a scant four years ago Barajas was anything but the scholar and hard working gentleman he is today.
"I was a bully in middle school," he said. "I kept getting in trouble."
The turning point, he says, came when he befriended a group of girls in eighth grade who were willing to help him. "No one else would hang out with me," he said.
"They had fun doing their homework and they established relationships with their teachers. I was inspired by them," he said. "I had always thought it was bad if you had to talk to a teacher."
Now among the top 5 percent of scholars in the SHS class of 2010, Barajas said the changes that started in eighth grade took on a more dramatic turn during his freshman year of high school.
"I was weighing 285 lbs. in my eighth grade year," he says. "I lost 80 lbs. my freshman year and started trying out for sports."
Sports also played a pivotal role for the millennium scholar, as Barajas said it became a way for him to make friends.
Just as he found success in the classroom, Barajas has also been successful in the athletic arena. Just this past winter he was a State runner-up wrestler for the Grizzly grappling program.
As if sports, school and full-time employment don't have him busy enough, Barajas mentors fifth graders in Sunnyside, helping them to not make the same mistakes he did in middle school.
How does he fit all this in his schedule?
Barajas credits the cooperation of his coaches, teachers and school counseling staff for being flexible with some deadlines once they learned of his other responsibilities.
"There are wonderful people here," he said of the high school staff. "I've built long-lasting relationships with them."
Those relationships, and that millennium grant, aren't the only legacies from Barajas' four years at SHS.
His little sister, SHS freshman Rosa Barajas, has watched her big brother's remarkable progress and hopes to follow in his footsteps.
"He wants to be somebody in life," she says of Barajas, the first family member to attend college. "Just seeing what he's doing inspires me to keep my grades up so I can be like him and be somebody, too."