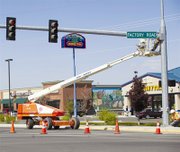 To some motorists, it might seem like "big brother" is monitoring some of Sunnyside's busiest intersections.
They are only partially correct.
As traffic delays and interruptions can attest, there is something afoot with the signal at Yakima Valley Highway and Lincoln Avenue. Traffic has been bottled up at times this past week as crews have installed tall cameras hovering over the intersection.
Shane Fischer is the city of Sunnyside's associate engineer, and he says the high-mounted video detection cameras will help to ensure a smooth transition of green, yellow and red lights at the crossroads.
In fact, he said similar cameras are installed at Edison Avenue and Yakima Valley Highway, as well as on South First Street at Lincoln and South Hill Road.
The reason is because the city has stimulus money available to update the traffic signals.
Previously, Fischer said Sunnyside's traffic signals at those intersections relied on sensors buried in the asphalt. But those sensors eventually wear out, messing with the timing of signal changes.
When the city received stimulus money to do an overlay at Yakima Valley Highway and Lincoln Avenue, Fischer said it made more sense to use some of the money to install more reliable cameras than cut into the fresh roadway and install sensors.
Fischer says the cameras do not have a high enough resolution to detect car license plates going through red lights or involved in other incidents. "They're top of the line cameras, but they're not that dialed in," he said.
It's not a case of "big brother," Fischer says, just a matter of aiding the flow of traffic at Sunnyside's busiest intersections.
He says the cameras have the ability to sense pixels or characters that represent vehicles arriving at the intersection. The traffic signals then respond accordingly.
"If there are no cars at all on the side streets, then the light on Yakima Valley Highway will stay green," Fischer explained. "But if the cameras pick up a car on those side streets, then it automatically triggers a signal change."
And that should mean smoother sailing, eliminating those frustrating instances when a signal blindly follows a timer and forces traffic to stop even if there's no traffic needing to cross the intersection.
The traffic signals on South First Street are even more advanced.
The signals at Lincoln and South Hill employ a device that allows emergency vehicles to change their traffic signal to green, or stay green, so they can more quickly get to their destination.
"That way they don't have to try to negotiate their way through a red light," Fischer said. "It automatically turns the light to green."
Sunnyside has made an additional traffic flow change in the interest of safety, realigning turns into and out of the Walmart entry on Lincoln Avenue closest to Yakima Valley Highway.
Fischer says that particular entrance now only has "right in, right out" access. Those who need to turn left off of Lincoln or out of the Walmart parking lot need to use the entries further down Lincoln Avenue.
The change, which includes an island, striping and orange posts, is needed because of back-ups created when motorists attempted left turns into and out of the first entry way.
Fischer said the back-ups became dangerous because there is a railroad track and because traffic was actually backing up into the intersection.
He says the entry was designed improperly when Sunnyside first gave the thumbs up to the Walmart development.
"The way it was designed when Walmart was put in, there should have been an entry way further to the west," he said. "We're fixing it now."