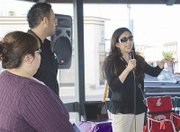 For several years Norma Jean Rios of Consejo has worked with victims of crime, and her desire to empower those in the community, as well as offer victims of crime with support, led her to organize rallies during Crime Victims Rights week.
This past Friday was one such rally in which several speakers from organizations serving Lower Valley residents spoke out for the benefit of those attending the rally at Sunnyside's Centennial Square, as well as those not at the rally.
Family members who have lost loved ones to crime displayed photos on a memorial table and representatives from the various organizations shared what resources are available to those who have been affected by criminals.
Pastor Bob Widman opened the rally with scripture and a prayer. He detailed how his church has been a target of burglary before Sunnyside Police Officer Scott Orate took center stage to provide those present with tips for burglary prevention.
Orate has been helping citizens organize neighborhood watch groups in Sunnyside.
"It's about neighbors watching out for each other," he shared, stating block watches typically cover one to two blocks in a neighborhood.
Orate said apartments are a good place to have a block watch because of the number of residents in a condensed setting.
He recommends block watch groups help one another, keeping an eye out for any suspicious activity in a neighborhood.
"If you go on vacation, a block watch captain can pick up your mail, making it appear as if someone is home," Orate noted.
His goal is to have 40 to 50 block watches in Sunnyside, which would account for 80 percent of the city.
Because of the numerous burglaries afflicting the city, Orate also shared residents need to take precautionary steps for preventing the crime.
He suggests locking all doors and windows to a residence. "Leave on the television or radio to give the appearance someone is home," he said.
Orate said he is often asked about alarm systems. "I am a firm believer in you get what you pay for," he noted, advising residents research the alarm system and the company before investing in a system.
"Foliage can be a dream for burglars," shared the police officer. He said bushes should be kept neatly trimmed and he suggested citizens plant rose bushes beneath windows as a deterrent to potential burglars.
To keep potential thieves from knowing what possessions one has in the home, Orate suggested draperies and blinds be closed. That, the officer said, will keep individuals casing a neighborhood from seeing a 52-inch flatscreen television.
Following his advice, case managers from Northwest Community Action Center spoke to those gathered at the rally.
Rosie Winters works with the Grandview School District. She said her role there is to help children who have been victimized or are in need of support.
"If a student's learning is affected somehow, I receive a referral," she shared, stating she also provides support for the family when there is a problem at home.
Winters knows what many people go through when they have been victimized. Her daughter, she shared, was the victim of a crime.
Because of this, Winters knows the importance of having a support system in place. She said her family was able to turn to organizations in the Yakima Valley, including Consejo, to help in the healing process.
Case Manager Eddy Zapien works with community members through Northwest Community Action Center, as well. His desire is to help the community and those who have been victims of crime.
Also speaking to those present was David Hinojosa and Raul Abrego, case managers for Sunnyside's Promise. The two work with youngsters at Harrison Middle School, Choices and Sierra Vista Middle School.
They work with students with drug and alcohol issues, as well as students in danger of becoming associated with gangs.
"We want to get students motivated to do their course work," shared Abrego.
The two work in conjunction with parents to help students dealing with a variety of issues that put them at risk for gang activity.
"We develop plans with the parents," shared Abrego, stating he is seeking funding to help reformed gang members with tattoo removal.
Numerous other organizations were represented at the rally, wanting to share their resources and give community members the message there is hope out there.
Through the various organizations, victims of crime can pick up the pieces and feel a sense of empowerment.