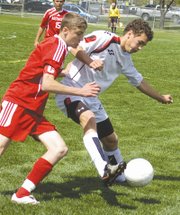 Reyes Cuevas scored a hat trick and assisted on another goal to spark the Sunnyside Grizzly boys soccer team to a 6-0 romp over Eastmont this past Saturday.
The host Grizzlies actually found themselves in a battle for the first 30 minutes or so of the match.
After Nick Steckler opened scoring for Sunnyside with a goal in the 10th minute of play, the score remained 1-0 for the Grizzlies until the 34th minute.
At that point, just six minutes before the half, Cuevas went to work in scoring two goals in just three minutes.
Cuevas struck first in the 34th minute when he found the back of the net on an assist by Sergio Licona.
It was Cuevas scoring again in the 36th minute, assisted by Jose Amador.
Leading 3-0 at the half, Sunnyside then removed all doubt in the first 10 minutes of the second half as Steckler scored on an assist by Cuevas in the 48th minute. Cuevas then knocked in his third goal of the day in the 49th minute on an assist by Amador.
All told, the Grizzlies scored an impressive four goals in just 13 minutes of play between the final minutes of the first half and the opening minutes of the second half.
"The main thing is that our accuracy for passing the ball is improving," Sunnyside Coach Juan Pineda said of his team's 18 shot attempts for the day. "Also we had fresh legs late in the half when new kids went in and gave us a spark."
Amador tacked on Sunnyside's sixth and final goal of the day, when he was assisted by Steckler in the 22nd minute.
While Sunnyside had all kinds of offensive fireworks on Saturday, Pineda also praised his team's defensive play in posting a shutout.
He singled out keeper Luis Garcia for praise with five saves. Pineda also noted the play of Jordan Esqueda. "He gave us good defense in the back to help keep them scoreless," the coach said.
Saturday's lopsided win came after some soul-searching by a Grizzly team (4-7, 5-7-1) unaccustomed to a losing season.
"We had a serious team talk looking for a new start," Pineda said. "We struggled, and we just had to regroup and work on team unity, team ethics, mental toughness."
The result he says, was "kind of like waking up the champion inside them." Pineda says his players are "working twice as hard and hope to make a great comeback and be strong for the playoffs."
Sunnyside hopes to continue its rebound tomorrow, Tuesday, when the Grizzlies play their home finale on senior night against Walla Walla.