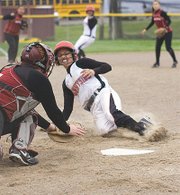 GRANDVIEW - The 2A Grandview Lady Greyhound softball team held the upper hand through six innings yesterday before falling late in a 12-10 extra inning loss to visiting 3A Sunnyside.
With timely hitting throughout the line-up and steady pitching by hurlers Ashley Van Tress and Mari Sanchez, Grandview built a 10-6 lead going into the top of the seventh inning in Tuesday's non-league contest.
Sunnyside found its second wind, though, and pushed across four runs in the seventh to tie the contest.
"They only had a couple of hits in the inning," said Grandview Coach Doug Hansen. "We gave up a couple of walks and just didn't make a couple of plays."
Grandview could have avoided extra innings by scoring in the bottom of the seventh, but came up empty handed.
Sunnyside Coach Ralph Mendoza said his defense was "phenomenal" in the home half of the seventh frame, turning a double play to quash any Grandview hopes of avoiding extra innings.
The Lady Grizzlies made sure there would only be one extra inning by scoring two runs in the top of the eighth.
What proved to be the deciding score was a line drive home run off the bat of Sarasa Partida to lead off the eighth inning.
Sunnyside then tacked on an insurance run when Melissa Amaro singled, stole second and third bases, then scored on a sacrifice by Zenaida Perales.
Grandview couldn't answer in its half of the inning as Sunnyside escaped with the win.
Gio Gomez was 3-3 at the plate for Grandview with two runs scored, while Van Tress was 2-4 with four runs scored and two RBI.
Also helping the Grandview cause were Chelsie McNabb, who was 2-3 with three RBI, and Sanchez, who was 2-2 with two runs scored.
Sunnyside was led by Partida and Melissa Amaro, who were both 3-4. Other Lady Grizzlies delivering multiple hits were Rubi Herrera, 2-5; Savanna Martinez, 2-4; and Maria Olivera, 2-4.
Grandview (1-9, 1-11) returns to action this Saturday at Wapato, while Sunnyside hosts Southridge today, Tuesday.