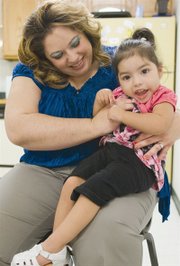 Nearly a year ago Nicole Huffman's world came crashing down. Excited to see a world-renowned doctor for her daughter Alia's condition, she was told that her little girl would never walk, talk or even be aware of what's going on around her.
"He said she will never know any cause and effects," Huffman said.
Little Alia Damian, three-years-old now, suffers from Polymicrogyria, Microcepaly and Cerebral Palsy, which prevents her from doing many things. She must eat from a feeding tube inserted into her stomach. She is unable to hold her head up. She is unable to crawl, walk or even talk.
But in the year since Huffman took her daughter to California for a conference, Alia has made many gains, despite what that world-renowned specialist told Huffman.
Alia can now hold her head up. Sure, it's not for long periods of time but any improvement gives Huffman hope.
"She's started to do more stuff and she can understand things," Huffman said.
Alia will give high-fives, she'll wave good-bye and she's even starting to eat some solid food. Pizza is her favorite.
"She'll eat a whole piece," Huffman said. "She'll also eat anything sweet."
Sounds like a typical kid.
Alia has started to attend pre-school, as well, and Huffman says that seems to have helped out a lot. She is still unable to talk but now Alia seems to be able to understand her mother. If you say her name, she turns to look at you with her huge brown eyes. A little tickle will draw a smile that will light up a room and melt the coldest of hearts. And she likes to play.
More importantly, she can now roll over. That doesn't seem like a lot but considering where Alia was a year ago, it's a huge improvement.
And someday, just maybe, little Alia might even walk.
Her mother said Alia will have Botox injections in her legs to help loosen her muscles. Right now they are constricted, which causes them to scissor sometimes.
Once the injections are complete she will be put into what Huffman calls a stander. This will help Alia to strengthen her legs and be able to bear weight. It might be months or even years, but the hope is one day Alia will be able to walk.
As far as communicating, Huffman, like any mother, knows what Alia wants when she wants it. But a new gadget might help Alia be able to communicate with other people. Huffman said soon Alia will begin working with device that will allow her to push a button that will move a cursor to a picture. The picture could be a drink or food, which would allow her to communicate what she wants.
She's already made huge strides in the basics of communications. Alia can shake her head yes and no.
"She's done a lot more than what that doctor said she would be able to do," Huffman said.
She's also working on other things. Alia is learning how to drink from a cup and sit up by herself. Before, Huffman said, Alia needed a lot of support to be able to sit up. Now, with just the help of a little support, she can sit by herself.
"I'm very happy with her progress," Huffman added.