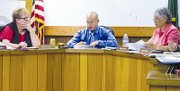 MABTON - With the city's Community Days festival less than four months away on Aug. 7, the Mabton City Council approved a measure last night to help spruce up the town.
In what Mayor Angel Reyna called a "win-win," Tuesday night's action authorized Police Chief Rick Gutierrez to daily pick up and return anywhere from one to three inmates from Wapato's jail to help with everything from removing graffiti in Mabton to washing and detailing city-owned vehicles.
In addition, Gutierrez told council the inmates will do custodial work at city hall. The agreement with Wapato calls for inmates to be in Mabton five days a week.
Other duties they'll perform include assisting the public works department with chores such as picking up trash.
Under terms of the deal, Wapato will provide a lunch for the inmates to bring with them to Mabton. In addition, it pledges that the prisoners sent to Mabton will be screened to make sure they are not dangerous or violent offenders.
In addition, Mabton will take precautions to make sure a city employee is supervising inmates at all times while they're working in the city.
Also, Wapato inmates serve on the work detail on a voluntary basis and are not required to go to Mabton.