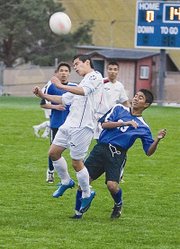 For all but 10 minutes it was a defensive chess match yesterday.
But those 10 minutes were some of the most exciting of the season for the Sunnyside 3A Grizzly boys soccer team in a 3-2 loss to 4A Walla Walla.
Tuesday night's contest was scoreless through the first 62 minutes.
Then, with less than 20 minutes to play in regulation, the two teams exploded for five goals in a span of 10 minutes.
The floodgates opened in the 63rd minute when Sunnyside's Jesus Ruelas booted in a goal on an assist by Jesus Gudino.
Walla Walla answered with a pair of goals in the next four minutes to lead 2-1.
Back came the Grizzlies, though, as Alfredo Gomez scored the equalizer in the 69th minute on an assist from Reyes Cuevas.
Then, just seven minutes from the end of regulation, Walla Walla scored the game-winning goal in the 73rd minute.
By the time the dust had settled, first place Walla Walla had escaped Sunnyside's senior night contest, and only just, with a hard fought 3-2 win.
As for the long scoring drought followed by a barrage of goals from both teams, Sunnyside Coach Juan Pineda explained, "We were holding each other in the midfield and both teams got really hungry for the win and started taking risks."
Pineda added, "They increased the pressure, we increased the pressure. It was back and forth."
Pineda praised his team's effort, especially the trio of Jordan Esqueda, Alfredo Gomez and Nick Steckler.
"Jordan once again played outstanding on the back, and Alfredo was a solid player on offense and defense," the coach said. "Nick was a warrior in the front, punishing defenders. The whole team was outstanding, but those three guys stood out."
Though a loss, Pineda said the contest was one of the best Sunnyside has played this season.
"It was a great satisfaction to come out and play a playoff caliber game and put the best team in the league on its heels for the whole match," he said.
Both teams fired nine shot attempts each. Sunnyside keeper Luis Garcia recorded six saves in goal.
In defeat, Pineda said the Grizzlies may just have found their stride as the push for the postseason begins.
"It doesn't taste like a loss in knowing the kids came out and played with a lot of passion," he said. "They're turning into a great, special group. We learned that we are ready for the playoffs. The kids know they can play at that level."
Sunnyside (4-8, 5-8-1) travels to Hanford tomorrow, Thursday, before closing out the regular season next Tuesday at Wenatchee.