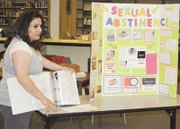 GRANDVIEW - One sure sign of spring is the need for high school seniors to conduct their senior project presentations.
This past Monday, the Grandview School Board received one of those student presentations delivered by Juana Garcia.
She began by describing a brief overview of her four years at Grandview High School, then discussed her future plans to become a nurse.
Garcia said her inspiration to be a nurse came from a job shadow she did this year at Prosser Memorial Hospital.
The centerpiece of Garcia's presentation was a display board, brochure and power point presentation on the benefits underage teens can experience by abstaining from sex.
She noted disease, guilt and unplanned pregnancies can be some of the results when teens engage in sexual behavior.
In addition, Garcia noted that research shows couples who wait to have sex have healthier, more trusting relationships.
She said other immediate benefits for teens to abstain include avoiding having a bad reputation and emotions of feeling hurt, used and angry if the relationship does not work out.
School board member Paul Jepson asked Garcia if she had ever seen any presentations in high school courses about sexual abstinence, especially given the high rate of underage teen pregnancies in the Lower Valley.
She replied there had been no classes offered that discussed the benefits of sexual abstinence.
Garcia, the first in her family who plans to attend college, also shared her interest in attending Eastern Washington University.
She said her eventual goal is to become a traveling nurse, who is assigned as needed to places around the world in need of a nurse. One place she'd like to help, Garcia says, is South Africa.