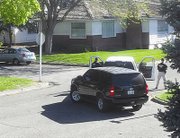 GRANDVIEW - Members from the Grandview SWAT team converged on two homes in the 200 block of Douglas Street yester at approximately 9 a.m.
They were searching for individuals wanted by authorities and were able to take three suspects into custody.
Because of an ongoing investigation, further details were not available as of press time.