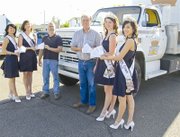 The days of driving a nearly 40-year-old truck that gets four miles to the gallon may soon be over for the Miss Sunnyside Court.
That's because the Yakima Valley Dairy Federation is sponsoring a raffle to raise money for a newer truck to haul the Miss Sunnyside float and trailer from one parade to another.
Chris Gardner handles maintenance for the truck and float, and he said the old rig has gotten to the point that it's unreliable.
Tony Veiga is with the dairy federation and he said the raffle drive is its way to serve the community and benefit the Miss Sunnyside program.
Raffle tickets, at $5 each, offer participants an opportunity to win a seven-night stay in Hawaii with round-trip airfare.
The winner of the raffle will be announced during the Miss Sunnyside Pageant later this September.
But the real winner will be the court members and their families who have to handle the truck.
Gardner said a benefit of a new truck, hopefully a 2000 diesel model, is not only better gas mileage but it will be easier for volunteers to drive from place to place.
It's estimated that a newer truck will cost about $15,000 and the hope is raffle proceeds will be able to cover the whole cost.
Gardner said the search is already on for a new truck, and that financing has been secured to buy one in case a good offer pops up. The loan would then be paid back from the raffle proceeds.
Gardner noted it might even be possible for the current Miss Sunnyside court, parents and volunteers to make use of the new truck.
"You have to get where you're going safely," Gardner said while waiting in the newspaper parking lot for mechanical help with the old truck's engine, after it refused to fire back up.
For more information or to purchase raffle tickets, contact Chris or Lori Gardner at 837-4046, Bill Scheenstra at 840-0693 or Veiga at 840-0123.