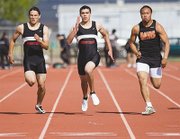 The Sunnyside boys track team picked up two wins at home yesterday, bringing their season total to three.
Sunnyside beat Davis 96-44 and Kennewick 87-56.
Sunnyside was led by Elias Medrano, who tore it up on the track with three wins in individual races and one win in a relay.
Medrano won the 100m in a tight race with Davis' Anthony Corbray and his own teammate, Kennedy Sarmiento. Medrano's time of 12.07 edged out Corbray's 12.10. Sarmiento finished in 12.12.
Medrano also won the 200m with a time of 23.65 and the 400m with a time of 52.60. Teammate Emmanual Torres was third in the event with a time of 55.55.
Medrano then helped Sarmiento, Nicholas Deleon and Mario Madrigal win the 4x100 relay in 45.54.
"This was the first time these four have teamed up to run this event," Sunnyside Coach Darren Mezger said.
Juan Reynoso gave the Grizzlies two wins in the 1600m and 3200m events. His time of 4:54.58 just beat out Davis' Joseph Knox, who finished in 4:54.72. His time in the 3200m was 10:47.31, almost a full 12 seconds better than teammate Nathan Gonzalez's time of 10:59.20, who finished second.
Sarmiento won both hurdle events at yesterday's meet. He won the 110m with a time of 15.63 and the 300m with a time of 42.71.
Also taking first place in a relay event was the Sunnyside team of Eduardo Cuevas, Sergio Lugo, Audiel Sanchez and Emmanual Torres. Their time of 3:51.19 in the 4x400 demolished the Kennewick's second place time of 4:18.36.
Sunnyside's other first place finish was in the high jump. Eduardo Salmeron cleared 5-6 for the win over Kennewick's Alfonso Najera, who could only clear 5-4.
Salmeron also finished third in the triple jump with a distance of 38 feet.
Other Sunnyside boys doing well in yesterday's event were Jose Barajas, who placed second in the shot put with a distance of 41-1. Andres Cantu was second in the discus throw with a distance of 122-6 and teammate Brian Bennett was third with a distance of 113-1.
Eric Amaro gave Sunnyside a second place finish in the javelin with a distance of 132-4. His teammate, Miguel Guzman, finished in third with a distance of 130-8.
Sunnyside's Patrick Watts got a personal record in the 800m with a time of 2:09.32.
Ryan Rice gave the Grizzlies a third place finish in the pole vault when he cleared 11-6.
The Sunnyside girls didn't fare as well yesterday, losing to Davis 83-62 and Kennewick 96-50 to remain winless for the season.
Still, the girls got good performances from Marisa Broersma, Ayla Schmick and Katie Herndon.
Herndon broke her own school record in the pole vault by six inches when she cleared 9-9. She is now ranked fifth in the state in the event. Teammate Geordan Skyles was third when she cleared 7-6.
Herndon also won the triple jump with a distance of 31-1. Teammate Ana Lugo was second with a distance of 30-9.
Schmick gave the Lady Grizzlies a victory in the long jump when she jumped 14-1.
Broersma won the 200m event with a time of 29.22. She was also second in the 400m with a time of 1:03.86. Kennewick's Angelique Whitstocken was first with a time of 1:02.56.
Also having good days for the Lady Grizzlies were Celia Vargas, who gave Sunnyside a second place finish in the 800m with a time of 2:39.60 and Kendra Meeker, who placed third in the discus throw with a distance of 94 feet.
Schmick, Ana Lugo, Tanya Lugo and Ashley Montes teamed up for a second place finish in the 4x100 relay with a time of 55.26.
Mezger said yesterday was senior day and all of his seniors stepped it up.
"It was nice to see," he said. "It was a pretty dominating performance. It was nice to get convincing wins on the boys side."
Sunnyside will participate in two events this weekend. Some team members will participate in the Shoreline Invite in Shoreline on Saturday, May 1, and some will participate in the Lake Washington Invite at Lake Washington High School on the same day.