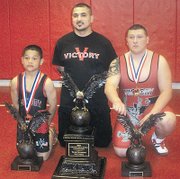 RENO, NEV. - The Lower Yakima Valley has become a hotbed for youngsters who want to develop their skills on a wrestling mat. Proof of that surfaced recently at the Cliff Keen Reno World Championships, staged in Reno, Nev.
The Victory Wrestling Club, a group of Lower Valley grapplers ranging in age from 5 to 18, trekked to Reno earlier this month and stamped themselves as some of the nation's most elite wrestlers in the entire country. More than 2,500 wrestlers representing 40 states competed at the national tourney.
The club's founder and head coach, Rene Torres, said of the 40 youths who made the trip to Reno, nearly half, 18 to be exact, returned home with medals for placing in the top six of their respective age and weight brackets. Of the 18 medal winners, 11 hail directly from the Sunnyside area.
"And six of those 18 placed in the top three, receiving a beautiful 24-inch eagle trophy," said Torres.
The icing on the cake for the Lower Valley wrestling club was the two championship trophies earned by one of the older and one of the youngest team members, Peter Almaguer Jr. and Andy Aguilera.
Almaguer, 18, topped all comers in the heavyweight division. A Granger High School wrestling team veteran, Almaguer cruised to the national title by recording four consecutive pins, all of them occurring in the first round.
Torres said the four opening-round falls recorded by Almaguer only took a combined two minutes and 40 seconds of mat time by the heavyweight. Almaguer's most impressive win at the world championship tourney came, perhaps, in the finals, when he needed just 13 seconds to pin a competitor who hailed from Oregon.
Aguilera, an 8 & under competitor, won the 70-lb. national title. His undefeated run at the world championships concluded with a 5-0 decision over an athlete from Gilroy, Calif. in the finals.
The Victory Wrestling Club also had two other athletes who ended up as national runners-up...8 & under wrestlers Izaiah Gonzalez and Jose Campos Jr.
Gonzalez, in the 55-lb. weight division, advanced to the finals before succumbing by a 6-4 score in overtime.
Campos, at 52 lbs., won four consecutive bouts to secure at least a third-place finish, then took on a wrestler in the second-place challenge match and scored a last second reversal to earn runner-up honors.
The two other local youngsters who brought home a Top 3 finish were Nathen Gonzalez and Jr. Cortes. Third-place finishers, Gonzalez competed in the 18 & under 103-lb. division and Cortes in the 10 & under heavyweight class.
Another dozen members of the Victory Wrestling Club returned home with placing medals, as well.
Fourth-place finishers included Julian Chavez at 6 & under 55 lbs., Alex Vaca at 10 & under 64 lbs., Carlos Lopez Jr. at 10 & under 73 lbs., David Huizar at 18 & under 145 lbs. and Josh Romero at 18 & under 152 lbs.
Fifth-place finishers for the local squad included Abel Nava Jr. at 6 & under 70 lbs., Eric Cortes at 6 & under heavyweight and Frankie Ochoa at 18 & under 215 lbs.
Earning sixth-place medals for the Victory Wrestling Club were Diego Isiordia at 8 & under 55 lbs., Elias Romero at 10 & under 70 lbs., Victor Almaguer Jr. at 12 & under 96 lbs. and Adrian Guerrero at 15 & under 115 lbs.
"The kids had an outstanding performance in this prestigious tournament," said Torres, explaining that because 18 of the local youngsters medaled, the Lower Valley club was presented the 36-inch team championship trophy.
Besides the 18 youths who medaled at the national tourney, the Victory Wrestling Club was also represented in Reno by Eli Barajas, Nathen Martinez, Ricky Cisneros, Josh Fernandez, Victorya Torres, Fabian Chavez, Anthony Almaguer, Josiah Rodriguez, Eliud Cisneros, Juan Isiordia Jr., Juan Zamora, Joey Escobar Jr., Joshua Salcedo, Jesse Barajas, Anthony Chavez, Santos Guerrero Jr., David Vidales, Omar Olivera, Isaac Guerrero, Skylor Davis, Rigo Valdez and Emmanuel Tejeda.