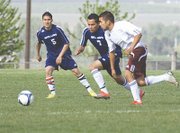 GRANDVIEW - Hopes of making it into the postseason were dashed for the Grandview Greyhounds soccer team last night after suffering a 3-1 loss to the visiting Wapato Wolves.
Wapato opened up the scoring at the 24-minute mark. Jose Espinoza of the Wolves got the ball to teammate Sergio Sanchez, who kicked it past Grandview keeper Elmer Campuzano.
Another 15 minutes passed before Wapato's Jesse Chavez scored.
The Greyhounds were down 2-0 at the half, but they still had dreams of coming from behind.
Ramiro Cervantes of Grandview lifted those hopes, getting the ball past Wolves keeper Edgar Grimaldo at the 66-minute mark.
One more shot was made at the 72-minute mark, but it was not a shot the Greyhounds were pleased with.
Wapato's Osvaldo was lobbed the ball by Sanchez for the final nail in the Greyhounds' coffin.
"They squashed our playoff chances," shared Grandview Coach Anne Holden.
She said the match was difficult to watch and equally difficult to lose for her team.
"We did end up with wonderful memories we have shared together," Holden said, stating she has had great moments with her seniors, especially.
"The game, however, summed up our season," she continued. She said her team has suffered from underachievement, "...coupled with officiating that has left much desired.
"We needed a little luck and we didn't have much this season."
Holden feels the seniors have a lot to be proud of. It was senior night and she reminded them of the high points when Sam Villa was hoisted on the shoulders of his teammates at State to low points like yesterday.
"They are a part of the memories I will have with me when I see the team step up to the pitch," shared Holden.
Grandview (2-10, 3-11-1) has one more match this season. They travel to Toppenish next Tuesday.