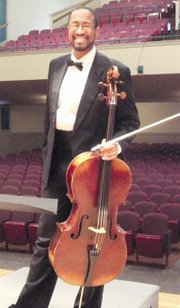 Teaching and music are a passion for educator and conductor Bruce Walker, who educates orchestra students at Harrison and Sierra Vista middle schools in Sunnyside.
In addition to teaching local students, he serves as conductor for the Oregon East Symphony and was recently selected to attend the Pierre Monteux School for Conductors and Orchestral Musicians. The school has a summer program in which Walker would have gladly participated in had it not been for another prestigious offer given to him.
He was asked to teach this summer in the nations of Iraq, Lebanon and Syria. A non-profit organization, American Voices, tapped Walker for this opportunity.
"This is an opportunity I can't pass up," he shared.
American Voices is devoted to cultural engagement programs around the globe. Those working with the organization have the opportunity to share with other cultures the unique American musical genres, such as jazz, Broadway and hip-hop. The exposure to U.S. musical styles broadens the perspective of youth in those nations.
Walker feels this is a unique opportunity for him. He believes the youngsters he teaches will not be the only ones impacted by the trip.
"It is an opportunity for me to teach them something and at the same time I will be learning from them," shared Walker.
In addition to the cultural expansion of his world, Walker recently auditioned for the music director's position with the Oregon East Symphony.
He has been working with the symphony in Pendleton, Ore. for a number of years as assistant director and conductor.
"If I win the spot (for the music director's chair), I will continue to teach in Sunnyside and run the symphony," Walker assures.
Lisa Patterson, executive director for the symphony, said the search for the music director is a two-year process and an announcement will be made in the spring of 2011.
"His concert, however, was very successful," she noted.
"It's not time for me to leave Sunnyside just yet and there's so much more to be done. I have a wonderful group of kids to teach and the potential behind them all is quite infectious," Walker commented.
He is excited about all the opportunities ahead of him and has high hopes of sharing his experiences with the youngsters in his classes.