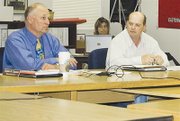 Sunnyside fire trucks raced to a blaze at an apartment complex in the 1300 block of South 11th Street this morning (Friday) just before 12:30 a.m.
Upon arrival, shared Sunnyside Fire Chief Aaron Markham, the first engine company erected a ladder on the west side of the complex to assist tenants fleeing the fire from the second floor.
Some tenants made their escape via a ladder provided by another tenant, and one tenant jumped from a second story apartment nearest the origin of the blaze.
That individual was, after being treated at Sunnyside Community Hospital, transported to Harborview Medical Center in Seattle via Northwest Medstar for injuries sustained from the leap.
Sunnyside firefighters, Markham said, conducted a primary sweep of the upper level apartment units to ensure the safety of all residents there.
After confirming all occupants of the building were evacuated, firefighters were able to attack the inferno.
"The fire spread quickly to the attic space and was fanned by string winds coming from the west," Markham shared, stating the roof of the structure collapsed before firefighters could completely extinguish the blaze.
The second story of the structure was completely destroyed and the residents of four upper-story apartments are left without a place to live. Four other apartments directly below were severely damaged by water.
Two occupants of the apartment complex were treated at the scene and transported to Sunnyside Community Hospital for minor burns. Three other patients went to the hospital for possible smoke inhalation via personal vehicles.
Those five victims were treated and released.
Assisting the Sunnyside Fire Department at the scene were firefighters from Grandview, and a paramedic from Prosser Memorial Hospital's ambulance service was on standby.
"It took firefighters several hours to complete the overhaul and search for hidden spot fires under all the fallen debris," shared Markham.
The cause of the fire is still under investigation.