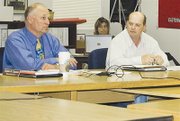 Instead of a worst case scenario, the Sunnyside School Board opted to take a more moderate approach to staffing cuts in the district.
The action came during the board's meeting last night, Thursday
Due to anticipated cuts in federal and state money, Superintendent Dr. Rick Cole initially presented the board with a measure for their review that would have cut up to 40 positions in the district for the 2010-11 school year.
Board member Rocky Simmons felt the cuts would compromise progress the district has made. He was especially concerned about reductions in the number of home liaisons.
"We can't go backwards on this," he said.
Another board member, Steve Carpenter, felt the district should stay the course with a more conservative approach, while seeking to retain as many employees as possible.
Carpenter was the only board member to vote in approval of the original resolution.
The board then unanimously approved a second motion to amend the reductions so that only 25 positions are cut.
As a result, the district will cut $1.6 million from its 2010-11 budget instead of $2.1 million.
"We have cut some of the flexibility that we needed in the budget process," Carpenter said.
Cole said the move will enable the district to pretty much retain all certificated staff because of attrition.
He says that in turn will reduce the level of fear and anxiety many district staff are experiencing.
He said it's still unknown if or how many classified staff, like para pros, will be let go.
While some jobs appear to be saved by the move - the board still needs to approve a final budget in July - cuts still on the table include eliminating seven speech language assistants and four home liaisons. Cole said those cuts are based on the fact the district has fewer migrant students.
The more moderate measure still means the district will eliminate the pre-school program, reduce building budgets by $200,000, capital projects by $400,000, $90,000 in administration costs and $80,000 in district support staff.