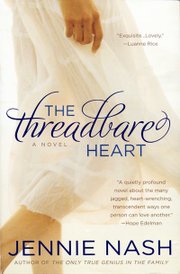 Life. Love. Tragedy. Triumph. Family.
It appears there were no literary themes that author Jennie Nash avoided when she wrote her most recent novel, The Threadbare Heart, but she weaves them into her story with ease and elegance.
The novel is about three generations of a modern family and how they navigate life, love, tragedy... well, you get the picture.
Lily Gilbert is at the heart of this story. Her seemingly perfect 26-year marriage to husband Tom has been held up as the ideal relationship to her single, 74-year-old, always unhappy in love mother, and Lily's newly married, but already discontented 25- year-old son.
As the story unfolds over the course of half a year, the readers learn that Lily's doubts about the happiness in her marriage bleed into her life, affecting relationships with everyone around her.
Nash is an excellent writer, keeping the story fresh and always on the move. She seamlessly moves from one character to the next, navigating the complex lives of each family member with precision and care.
This is a heartfelt, moving tale and I reluctantly admit that a tear or two might have escaped me toward the end, but it manages to avoid being overly sentimental.
This is not your typical overdone story of marriage with big events rocking each scene. The Threadbare Heart is subtle; the majority of the action is borne in the thoughts and memories of its very real characters.
That is not to say this book is boring. It pulls you in almost immediately.
Nash seemed to create a book which makes her readers feel like they have been blessed with a secret window into the lives of her characters and it becomes very easy to start to feel as though you know these people.
The reader can identify with the doubts in Lily's mind, the insecurity her son Ryan feels over his marriage, and the loneliness Eleanor, Lily's mother, finds creeping up on her.
There were a couple of things that annoyed me during the course of the book, but they had little to do with the content found within its pages.
To put it simply, the back cover synopsis lied. I will not tell you exactly what it says of the story. In my opinion, it gives too much of the story away and if you see this book in stories, resist the temptation to read the back. It simply does not do the story justice.
Still, the back cover synopsis will have you believe that this is a story of fabric and how one particular piece of old French lace helps a mourning widow heal her broken heart.
Don't believe it.
The Threadbare Heart is so much more than that. The lace and mourning widow scenes are really rather minor sections of the book.
Other reviews will speak about the rich description of fabric hoarders like Lily and how the author got the obsession right on the nose.
Once again, don't believe it.
Well, not all of it anyway. With 23 Rubbermaid tubs of unused fabric, I think it is safe to say that Lily is obsessed. The descriptions of how Lily feels about them, her affection for certain pieces and her reluctance to use the old piece of French lace her grandmother gave her all help paint a clear picture of who Lily is, but fabric is really just a metaphor in the story.
Speaking of metaphors, Nash may have tried to cram too many into this story. Fabric is a constant, but then there is the whale, baseball, a dog, fire, a pottery.
Well, you get it.
The final thing that irked me is really very minor, but on principle I simply must share it.
Eleanor, the 74-year-old wild child, loves baseball, but Nash needed to do a little minor research on her depiction of my beloved Red Sox Nation.
Most of it was right on the money. The opening day in Japan, the former Sox player who had joined another team.
But then she wrote about Jacoby Ellisbury.
There is no Ellisbury on the Red Sox. His name is Ellsbury and he happens to be one of my favorite players because he can steal bases like no one else on the team and he played a vital part in helping the Red Sox win the 2007 World Series.
Nash captures the fabric obsession well, but missed portraying Red Sox Nation faithfully with this little mistake.
This book is marketed toward women, so a little mistake like that might go relatively unnoticed. Perhaps Nash just miss typed it and the editor thought it was his real name so it went through.
But it still bothers me.
So if you decide to pick up The Threadbare Heart, and I recommend you do, don't even glance at the back cover and when you read about Jacoby Ellisbury, cross out that 'i' for me.
The Threadbare Heart hits book stores on May 4, in time for those anxious Mother's Day shoppers.
But be warned, the novel does contain some minor sexual content and a little foul language toward the end.
If that does not bother you, go ahead and pick it up. You won't be disappointed.