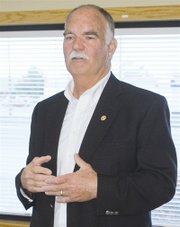 Yakima County Sheriff Ken Irwin paid a visit to the Sunnyside Republican Club at a meeting held this morning at Sunny Spot in Sunnyside.
Irwin came to speak to the club about crime and safety in the Yakima Valley.
Emphasizing the need for community involvement, Irwin discussed what the general public can do to aid local authorities.
He encouraged people to reach out to their neighbors, exchange phone numbers and watch each other's homes for suspicious activity.
The citizen patrol was also discussed, Irwin describing them as the eyes and ears of local authorities.
Irwin also discussed what initiatives the sheriff's department has taken in an effort to crush gang activity. He informed the club that federal, state, county and local authorities have been coordinating a violent crimes task force.
But fighting gang activity is not just arresting people, Irwin told them.
Prevention and intervention were also discussed as Irwin told the story of a man who climbed out of the black world of drugs and now works as an intervention case worker.
Programs like this help open doors for kids who are looking to clean up their lives.
"The world is different," Irwin said reflecting on the changing times, "and we need more programs for those kids."
Irwin also discussed 'Stand Up for Outlook,' an interactive effort that brought the citizens of Outlook and the Sheriff's department together in an effort to tackle major concerns for the community.
Citizens in Outlook took a survey listing graffiti, gangs and lighting issues among their major concerns and together they began to solve them.
This is an initiative that the Yakima County Sheriff's department is looking to bring to Sunnyside very soon. Irwin stated that it is designed to let the people of a community help themselves, get things under control and prevent little problems from becoming big issues.
When asked what lawmakers can do to help make his job easier, Irwin stated that other than the need for stricter gang laws, what his department needs is the money to enact the programs they need to get and keep crime under control.
Irwin noted that his department, and most legal departments, are limited by budget restrictions, but he is actively seeking additional funds and grants to aid in their efforts.
Included among his efforts was a visit to both Senators Maria Cantwell and Patty Murray in Washington D.C., whom he hopes will assist in getting an appropriations bill through Congress.
Many from the club asked Irwin questions and revealed their concerns over several legal issues.
Everything from the impounding of cars to the current state of the prison systems was addressed.
Irwin discussed the legal restrictions that prevent authorities from holding cars, forcing people to pay their fees and making prisoners work to earn their keep.
Not everyone was quite so satisfied with Irwin's answers, but they were honest and true.
Overall, the message Irwin carried with him to the Republican club was one that highlighted the need for community unity and strength.