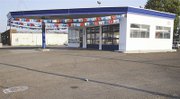 For the second time, Tom Denchel Ford has elected to close its Sunnyside dealership.
Tom Denchel closed his first Sunnyside dealership branch in 2005, but in December 2008 Denchel decided to give Sunnyside another go. Opening up at Sixth Street and Yakima Valley Highway, Denchel reports that the location proved too small for the business it generated.
Only three employees ran the dealership, but Denchel said there needed to be at least five people there to run it successfully. Unfortunately, there was not enough room to hire on any more employees.
"You've got to get in with both feet," said Denchel. "Not with one foot."
Denchel added it was tough on the three-man crew to maintain the dealership.
Denchel's Sunnyside employees were relocated to the Prosser dealership.
"We are busy enough that we need them there," Denchel said. "And we always take care of our people."
Denchel is looking to expand his other three dealerships. In addition to the Prosser location, Denchel owns a dealership in the Tri-Cities as well as one in Hermiston. He reports that each dealership sells more than 100 cars each month.
Though disappointed to see the Sunnyside location close, Denchel says that he has big plans for his Prosser and Hermiston dealerships.
Both are in need of expansion. Hermiston is first on his list for updates.
"We've already bought the land."