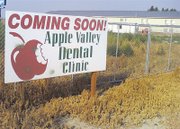 The Sunnyside building boom continued in July, as city officials gave the thumbs up for 50 new building projects with a combined valuation of $2.9 million.
The big ticket item by far last month was a new Apple Valley Dental Clinic valued at $1.3 million. The nearly 13,000 square foot clinic is located at 3217 Picard Place, next to the Rodeway Inn.
Sunnyside city coffers netted $11,316 in permit fees from the new clinic.
Also in July, Sunnyside building officials approved four new housing starts with a combined valuation of nearly $800,000.
Two of the homes, valued at $165,567 each, are for the Catholic Charities Housing development on Beckner Alley. Another, valued at $227,308, is part of the Aho housing development on 16th Street. One other house approved last month is valued at 232,300 and will be built in the 400 block of West Grandview Avenue.
The city of Sunnyside collected nearly $9,000 in permit fees for the four new homes.
Another sizeable building project permitted last month is the ongoing construction of the new McDonald's restaurant at 2200 East Yakima Valley Highway. For the second consecutive month, city officials approved work at the new eatery valued at more than $500,000. The construction approved in July includes the restaurant, drive-thru and 62 parking stalls.
Sunnyside garnered $5,800 in fees for the McDonald's project.
Also approved in July was a remodel at Les Schwab valued at nearly $70,000 and a $60,000 concrete fertilizer tank for Simplot in the 300 block of South First Street.
During July Sunnyside building officials also approved 10 re-roofing projects with a combined valuation of $45,000.
For the month of July, Sunnyside collected $32,984 in building permit fees.
- John Fannin can be reached at 837-4500 or at jfannin@dailysunnews.com