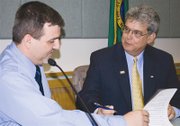 Last night Sunnyside's new city manager, Mark Gervasi, was on hand for the approval of his employment contract.
The Sunnyside City Council approved the contract without discussion.
Gervasi will be paid $98,000 annually. He will be allowed 15 vacation days and five sick days. The city will provide medical, optical and dental benefits under the city's health plan, as well as retirement benefits.
In addition, the city manager will be allowed to participate in the city's deferred compensation plan with a 100 percent match up to 5 percent of his salary.
If Gervasi opts to participate in a civic organization, such as Rotary or Kiwanis Club, the city will pay his dues and provide paid attendance to the annual Washington City/County Managers Association conferences.
A cell phone will be provided to the city manager for business purposes only. The cell phone charge is not to exceed $50 per month.
An automobile usage allowance of $250 per month is part of the contract, and the city will reimburse Gervasi for mileage beyond a 50-mile radius at the standard IRS rate, when he is on city business and using his personal vehicle.
The city also agreed to pay Gervasi $5,000 to defray moving and relocation costs to Sunnyside. He presently is the city manager in Tillamook, Ore.
The city manager is subject to a performance review after the first six months and his first year of employment. After the first year, an annual performance review will be conducted. The reviews and evaluations are to be conducted by a third party with participation from city council members.
If terminated for any reason other than "just cause", a severance pay not to exceed four month's salary will be allotted in monthly increments. No benefits will be paid during that time.
Gervasi will not be entitled to severance or termination pay if he is terminated for "just cause," such as misconduct.
If he elects to terminate his own contract, the city manager must provide not less than 60 days notice.