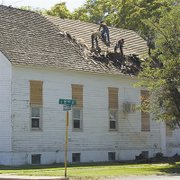 There's no shortage of options for home owners looking to fix up a roof or replace their roof altogether.
Mike Cerda has been a roofer in Sunnyside for more than 20 years and he says the most popular material is composite asphalt shingles.
He says they are long-lasting, come in a wide variety of colors and are generally the least roofing expensive option.
Cerda says composite roofing materials usually come with an option for a 30-year or 50-year lifespan.
Another roofing material with plenty of color is metal. Often seen in parts of the country with heavier snowfall, metal roofs are well known for shedding snow.
But even in drier climates, like the Lower Valley's, metal roofs can be an option. Cerda says an advantage of metal is that, like composite shingles, they require little maintenance once installed. Metal not only comes in a wide array of colors, but in styles, as well.
Another predominant option is wood shakes. Cerda says shake roofs are not as common these days here in the Sunnyside area.
Though providing a natural appeal and aesthetically pleasing, Cerda says shakes are the most expensive roofing option. Further, he says homeowners should be prepared for more maintenance with shake roofs.
"They require cleaning and staining or sealing on a regular basis," Cerda says of wood shakes.
Whatever the roofing option an homeowner prefers, Cerda says it's important to do the job right.
"A roof gives value to your home," he said. Homeowners, Cerda added, should work with their contractor to determine if the job entails just replacing a few shingles or if the roof is in a poorer condition and requires a re-roofing project.
Though one person might prefer metal, another shake and another composite, Cerda says there's no time like the present to get going with a roof.
"Any time is good for roofing," he smiled.