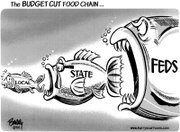 Congress recently left Washington D.C. for the month of August. I spent the first week traveling throughout Central Washington to towns like Goldendale, Bingen, Quincy and Leavenworth to listen to your ideas and concerns.
In an unprecedented move, Speaker of the House Nancy Pelosi has decided to call on lawmakers to cancel meetings with the people we represent and return to Washington D.C. with the sole purpose of rushing through more government spending in the form of another bailout for state governments.
I voted against each and every bailout - whether it was proposed by President Bush or President Obama. I voted against the stimulus spending bill that gave $100 billion to the state governments last year, and I will oppose handing them another $26 billion through a taxpayer funded bailout.
The fact is those who control Olympia lobbied to expand government programs knowing full well that they could not pay for them. They chose to avoid the hard decisions required for a real balanced budget and instead decided to bank on this liberal Congress to bail them out again by filling their coffers with your tax dollars.
Our nation has a $1.5 trillion debt. Using money the federal government does not have to pay for state programs that states can't afford is unsustainable and taxpayers are left wondering what happens next year?
After years of nothing but a big government agenda based on trillion dollar spending bills, bailout after bailout, a trillion dollar takeover of health care and tax increases coming out the White House and this Congress, enough is enough. Instead of returning to Washington D.C. to spend more, this Congress should be finding ways to spend less - and that starts with ending the bailouts and using the money to pay down the debt. It is past time to rein in reckless spending and enact the fiscal restraint in Washington D.C. and Olympia that experts say is needed to put people back to work and revive our economy.
As I make the trip back to our nation's capital, that's the message I am taking with me as I fight against bigger government and more spending and focus on better solutions that involve cutting spending, creating long-term sustainable jobs and growing our Central Washington economy.
- Congressman Doc Hastings
(R-Pasco) represents Central
Washington's Fourth
Congressional District.