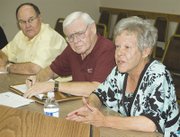 GRANDVIEW - Proposals made by the Grandview Planning Commission to change zoning for light industrial areas of town came under fire last night, Tuesday, by the Port of Grandview.
If approved by the city council, the proposals would require light industrial property owners, such as those on Wallace Way and Stover Road, to have landscaping and sprinkler systems in place. In addition, the proposal would have paved parking requirements for light industrial lands.
Jim Sewell is one of three Port of Grandview commissioners, and he told council members the changes, if approved, would drive away business.
"The port is your economic development partner," Sewell said. "We want to be involved in zoning matters for light industrial properties."
Sewell said potential developers have told him the proposals would add a minimum of 15 percent to the cost of construction. "In these economic times that's a killer," he said.
Grandview Mayor Norm Childress agreed to an extent with the port's concerns, but noted the city is trying to improve its appearance.
"I understand the development constraints with landscaping," Childress said. "Maybe we could soften the industrial impact."
Ideas include having light industrial businesses do something in keeping with Grandview's status as a tree city. Councilman Mike Bren suggested that developers designate 1 percent of construction costs for landscaping or beautification. There is a similar requirement in place for some grant funded public projects, in which 1 percent has to be set aside for art.
The Grandview City Council and planning commission are planning a joint meeting on Sept. 21. Childress invited the port to attend the meeting so all three parties could work together to find a solution to the zoning issues.
Prior to the Sept. 21 meeting, a committee consisting of members from council, the port and planning commission will meet to iron out some revised proposals.