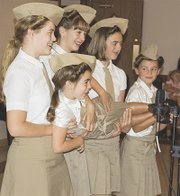 PROSSER - "Teacher, he's looking at me!"
"Her arm is on my desk!"
Those are just some of the things Linda Wozniak has heard from her students as an elementary school teacher in Olympia for the past 29 years.
Sometimes the sayings are humorous, but this past Tuesday, during a speech to the Lower Valley Christian Women's Connection, Wozniak said there was nothing funny about her childhood growing up in Idaho.
"My parents fought a lot," she said.
Wozniak said she was determined to have a different type of family when she got older.
"I didn't want to fight. I wanted to get married," she said.
Wozniak met her future husband while in college and set about trying to establish the perfect home.
"We had three children and we were involved in soccer and Brownies," she said. "We took a family vacation every year."
Everything looked good, but it all went wrong.
"Twenty-five years later my husband left and I was alone," she said. "I tried to handle things by myself."
Wozniak said she became seriously depressed and in the span of one year saw seven different counselors. "Not one could make me feel better," she said.
Wozniak's life started changing when she found a Bible that had belonged to one of her children. She said she started reading about Jesus. "I had heard about Him at church," she said.
The curiousity she had about Jesus led to a life-changing decision when she started attending a women's Bible study.
"I didn't like being in an empty house so I went to a Bible study," she smiled. "God became real to me at that Bible study."
Wozniak said her faith began growing as she wrote down snippets of Bible verses and carried them with her to provide guidance and encouragement.
The verses taught her to not be afraid, that God would always be with her. They also taught her to pray for those who had hurt her.
As she learned more about God, she also began to appreciate His love for her.
"The Bible became like a personal love letter to me," she said.
God's love for her is infinite, immoveable, Wozniak said.
As a result, though there have been difficulties, she says she has found a quality of life through Jesus like she's never had before. "I found my forever friend," she said.