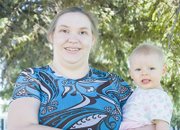 Sunnyside's Our Saviour's Lutheran Church has for some time been without a pastor, but that recently changed with the arrival of Pastor Katrina Walther and her young family.
Approximately three weeks ago she, her husband and infant daughter arrived in the community.
Walther this past May graduated with her Master's of Divinity from Lutheran Seminary Program of the Southwest in Austin, Texas. Her graduating class was the last to receive the degree from the school as it seeks to focus on other programs in the coming years.
Once she graduated, Walther was assigned to region one of the Evangelical Lutheran Church of America, which Our Saviour's Lutheran Church is associated. The region covers the states of Alaska, Washington, Montana, Idaho and Oregon. The Evangelical Lutheran Church of America then breaks a region into Synods and Walther was assigned to the Synod that covers Eastern Washington and Idaho.
The Texas native was provided the opportunity to interview in Sunnyside and was sent a "letter of call" shortly after, giving her husband Carl the opportunity to start a job search of his own.
He is a high school science teacher, whose strength is physics. He began looking at job opportunities in the Sunnyside area and was hired as the Intervention Science class teacher at Sunnyside High School.
"It was all in God's providence," commented Pastor Walther.
She said the family began settling into their new home approximately three weeks ago. They have been busy familiarizing themselves with their new community with the help of congregation members.
"The Lower Valley is a lot like home, only drier," said Walther, stating the scenery is much like west Texas.
The people, too, are striking the young family in a positive way. "This is a very loving congregation," the pastor commented, stating members of her church have helped the family move into its new home.
Many members of the church have left the family welcome gifts, given them tours of the Lower Valley and the older women have "adopted" 9-month-old Laura as their "surrogate grandchild."
Walther said the family is getting settled in and is happy to serve a community that has been so warm and welcoming.
- Jennie McGhan can be contacted at 509-837-4500, or email
JMcGhan@DailySunNews.com
Jennie McGhan/Daily Sun News
Pastor Katrina Walther and her family recently made the move from Texas to Sunnyside. She is the new pastor at Our Saviour's Lutheran Church, her husband Carl (not pictured) is a teacher at Sunnyside High School and the couple's daughter is the newest addition in the hearts of many congregation members.