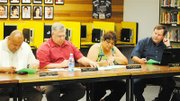 GRANDVIEW - When former Grandview School District Superintendent Darrell Smith left the district with a generous donation for scholarships, he did so with no stipulations on how the money should be distributed.
At yesterday's Grandview School Board meeting, the $400,000 left by Smith was the main topic of discussion.
Current Superintendent Kevin Chase informed the Grandview School Board they would need to decide how they would like to distribute the scholarships.
Considering Smith's devotion to education, board director Tim Grow recommended they look into turning the donation into a scholarship for students looking to pursue an educational program in college.
Director Lydia Moreno thought they might consider a scholarship to students who would be the first in their family to pursue higher education.
There was also the question of how many scholarships they would like to provide.
"Do we want to make a big impact on a few," Chase said, "Or a little impact on many."
While the ideas for who would qualify for the scholarship and how many to offer went unsettled, the board seemed to generally agree they would only spend the interest on the $400,000 to ensure that the scholarship would be around for years to come.
Board Director Alfonso Contreras even recommended they reinvest a percentage of the interest to help the principal balance grow.
The school board also agreed that they would like to turn to Dollars for Scholars to help distribute the donated scholarship funds.
The decision was made that each board director will come up with a list of criteria they would like to see used to distribute the scholarships and they would return at the next school board meeting on Sept. 13 to discuss the ideas.