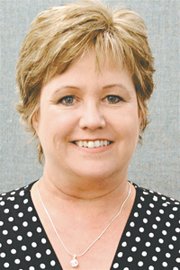 Sunnyside City Councilwoman Theresa Hancock recently received an Advanced Certificate of Municipal Leadership from the Association of Washington Cities. Hancock completed more than 60 hours of training credits to earn this distinction.
The certificate of municipal leadership program is designed to enhance the ability of elected municipal officials by providing knowledge and skills to effectively operate within the law, plan for the future, secure and manage funds and foster community and staff relationships.
To earn this certificate, Hancock attended a variety of Association of Washington Cities sponsored municipal workshops; including sessions on budgeting, land use planning, personnel and leadership. The courses help mayors and council members learn the essentials of municipal service and improve their ability to work with council colleagues, city staff and citizens.
Hancock was appointed to the City Council on June 13, 2005 to fill an unexpired term. She is serving her second full term as council member. Prior to her appointment to the Sunnyside City Council, she served on the Sunnyside Planning Commission, where she worked on various annexations, helped update the comprehensive plan and worked on ordinances.
Hancock is currently serving as the alternate representative to the Yakima Valley Conference of Governments, chair for the Lodging Tax Advisory Committee and the Association of Washington Cities' representative to the Jail Industries Board.