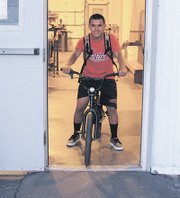 Lucky 7 Bikes, a division of Sunnyside's Promise, has immediate openings available for boys and girls interested in earning a new bicycle.
More than 135 boys and girls have entered the program since its inception, where they choose a bike, disassemble it, clean it and reconstruct it under the supervision of Sunnyside authorities and volunteers.
The goal of the program is to allow kids to meet prominent city authorities and, through trust, be able to relay criminal information to these authorities with the intent of stopping or preventing crime before it happens.
The facility is located in the former C Speck Motors building at 617 Seventh Street in Sunnyside. The program can handle 10 participants at a time. Work stations are provided by the Sunnyside High School metal shop and tools are donated by citizens.
The program is open on Tuesday and Thursday nights between 5:30 and 8 p.m.
The average commitment for participants is six nights.