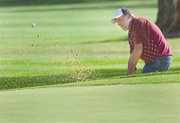 Meadow Springs Country Club member Chris Indall shot an even-par 144 to win top honors in the 2010 Banana Belt, the most prestigious event that Sunnyside's Black Rock Creek Golf Course stages each year.
The Tri-Cities golfer forged a two-stroke lead on the eventual runner-up, Yakima's Joel Elder, by carding a 1-under-par 71 on the opening day of the tourney this past Saturday. Indall, on Sunday, again posted the low score from the 32-person field by touring the 6,286-yard track with a 1-over-par 73.
Elder backed up his opening round of 73 with a 75 on Sunday, leaving him four shots back of the winner but two shots in front of third-place finishing Trini Madrigal of the Lower Valley (76-74).
In capturing this year's Banana Belt championship, Indall earned a $340 payout. The runner-up Elder enjoyed a $300 pay day, with Madrigal cashing for $260. Also earning payouts were fourth-place finishing Juan Guerrero, a Black Rock Creek greens keeper who cashed for $210 with his rounds of 77-76; and Lyn Dasso of Zillah and Troy Wilmoth of Yakima, who tied for fifth and each netted payouts of $149.
In day two action this past weekend, Elder made an early charge at Indall by shooting 1-under through the first five holes, thanks to a birdie on the short, 485-yard, par-5 third hole. The tweeter drew Elder to within a single shot of the front-running Indall.
Elder lost major ground on the tourney leader, however, absorbing a triple-bogey on No. 6, the toughest rated hole at Black Rock Creek. Indall had troubles of his own on No. 6, but he scratched out a bogey and in the process went up by three strokes on both Elder and Madrigal.
Indall and Madrigal closed out the front nine on Sunday by parring the final three holes. Elder, though, drew to within two strokes of Indall by going 1-under down the front nine stretch.
Any hopes Elder had for making up more ground on Indall dissipated quickly on the back nine, as the Yakima linkster opened with a bogey and triple-bogey after the clubhouse turn. Elder righted the ship after that, shooting 2-under down the final seven-hole stretch, but it was too little, too late.
Madrigal, in trailing Indall by three shots heading into the final nine holes of play, was also unable to close the gap. He finished with a 3-over-par 39, compared to the even-par 36 that Indall had on his scorecard.
Madrigal's undoing actually came on the opening day, with double-bogeys on the opening hole and on No. 6. The Lower Valley golfer had to settle for a front nine, 6-over-par 42. But to his credit, Madrigal fought back for the third-place finish with a back nine, 2-under-par 34 on Saturday and with front and back nine scores of 35-39 on Sunday.
In the net scoring column this past weekend (actual score minus handicap), Grandview's Jason Eberle claimed top honors. The 12-handicapper opened the two-day tournament with a 74, a whopping 10 strokes below his scoring average. Eberle followed that up with an 83 on Sunday, leaving him 11 shots under his handicap for the two days. For his efforts in netting a two-day total of 133, Eberle snared winnings of $340.
Two shots back with a net-135, which brought a pay day of $300, was another Lower Valley golfer, Steward Rogers.
The third through sixth-place finishers on the net side were Bob Hicks of Sunnyside with a 138, Kieth Grace of Yakima with a 139, Antonio Hidalgo of Sunnyside with a 142 and Akira Nozaka of Grandview with a 145.
Chris Indall 71-73-144
Joel Elder 73-75-148
Trini Madrigal 76-74-150
Juan Guerrero 77-76-153
Troy Wilmoth 74-82-156
Lyn Dasso 77-79-156
Jason Eberle 74-83-157
Akira Nozaka 80-77-157
Kieth Grace 78-79-157
Russ Arbuckle 79-80-159
Mike Chambers 80-81-161
Antonio Hidalgo 87-75-162
Sean Tudor 77-85-162
Willie Edwards 85-83-168
Steward Rogers 81-88-169
Greg Lenhart 87-84-171
Greg Gustafson 86-86-172
Jerry Besel 81-94-175
Bob Hicks 89-87-176
Doug Veach 82-94-176
Micky Panarello 85-91-176
Troy Monholland 88-90-178
Alan Sandlin 92-89-181
Loran Hancock 90-92-182
Randy Boast 85-97-182
Phil Luther 86-98-184
Candice Flores 92-96-188
Wally Flores 102-93-195
Chris Hollmeyer 99-100-199
David Bos 113-97-210
Ron Harper 107-110-217
Mike Stegeman 104-114-218